7 Mathematical Betting Strategies, Tips, Methods [2023]
Many bettors ignore the importance of mathematics in sports betting. If you want to become profitable in the long run, keep reading, and I will present some mathematical betting strategies I used in the past few years.
I've used many betting strategies and techniques since 2014.
Some of them were failures, and others generated so much money that many bookmakers started limiting my maximum stakes.
This article aims to teach as many bettors as possible to avoid scams or useless techniques and present working mathematical betting systems.
Best Mathematical Betting Strategies and systems
The best mathematical betting strategies can generate long-term profits no matter the outcome of the sports event.
These mathematical betting systems should have a basis for predicting football more correctly than SOME bookies or taking advantage of overpriced markets.
#1. Arbitrage betting – a mathematical betting strategy that works
I already mentioned arbitrage betting as a possible mathematical betting technique.
This strategy is based on finding markets and outcomes where the bookies offer overpriced odds.
The most natural thing in sports betting is that the bookies are copying odds and betting lines from each other.
This is why the odds difference might seem non-existent in many markets.
But, commonly, some of them have different opinions/information about the possible outcome of an event.
These differences are creating sure betting opportunities, called arbitrage bets.
Want to try this strategy? Check one of the three most affordable software:
What are these mathematical bets?
They are straightforward. Most bookies offer an odds of 2.10 for scoring over 10.5 corners in a football game.
But some bookies get crucial information about team line-up, motivation, etc., and they predict fewer corners.
This information can lead to a situation when this betting site offers an odd of 2.10 for the under 10.5 corner markets.
If you follow some or at least one of the mathematical betting strategies from this article, you can place bets on both outcomes with the same stake.
No matter who wins, you will make a guaranteed profit.
The betting opportunities appear at each sports event at almost every bookmaker. Your only goal is to spot them with the help of arbitrage betting software.
Are you interested? I have a whole article on how to find arbitrage bets. Please read it and start following this great mathematical betting system.
It was my best decision back in 2014 when I started sure betting.
#2. Value betting strategy
If you are looking for the most profitable mathematical betting strategy, value betting is the one. But with a significant profit comes higher risk.
Most value bettors start with almost risk-free betting techniques like arbitrage or matched betting.
This is also based on spotting betting opportunities with wrong odds. But in this case, you need to know which market is overpriced.
Value betting is the technique that requires you to estimate the possibility of an outcome on sports events. Don't be afraid; you don't need to be a mathematician or sports expert.
Fortunately, sharp bookmakers like Pinnacle or Sbobet can figure out the real chance of an outcome (or at least they are the most accurate).
If you are looking for a betting strategy that is based only on mathematics, positive expected value betting is the right choice.
How to practice this mathematical method?
Start using an

arbitrage bet finder

Compare odds between your local bookie and one/more sharp bookmakers (Pinnacle, Betfair exchange, Sbobet)
If the odds at your local bookie are higher (sure betting opportunity above 0.5%) than at Pinnacle, you place that bet
Want software that is offering value betting services? Nothing more straightforward than that! Breaking Bet, BetBurger, and RebelBetting are offering value betting services.
#3. Matched betting – the most straightforward mathematical betting system
Tens of thousands of bettors have already profited from this betting technique. But I'm still surprised how many bettors haven't looked for football betting strategies that work for taking advantage of bookmaker offers.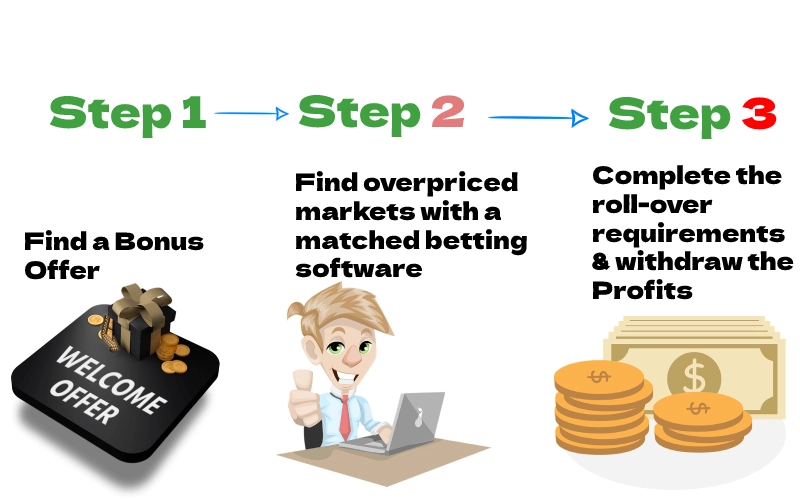 Bookmakers and bettors have the same goal. Making money in the long run, and for that, bonus offers might be a perfect solution.
The bookies want to get more and more clients with the help of offers, while bettors are depositing in the hope of withdrawing at least the bonus.
How to profit with the mathematical betting strategy called matched betting?
Find a bonus offer with a decent roll-over requirement (hopefully that is not asking for rolling over the deposit + bonus amount for 12 times on odds over two on accumulator bets)
Deposit the maximum amount you need to get the whole bonus
Start using the best matched betting software or an

arbitrage bet finder

(they display betting markets that have overpriced odds)
Place bets on both outcomes of the market (1. bet at the betting site with the bonus, 2. bet is hedging the other outcome at another bookie)
You won't lose money no matter who wins, and with this mathematical betting strategy, you just completed a part of the roll-over requirement
You can also take a look at my dedicated article about no-risk matched betting in the USA.
#4. Mathematical betting based on historical football databases
Many services are already offering great statistics and predictions for football. But only a few of them are taking the next step by providing additional tools capable of increasing profitability.
Back in 2020, when the pandemic hit, I had to start looking for new betting strategies. It was the moment when I found out that the techniques mentioned above are not the only mathematical betting strategies.
I started using football statistics sites like StatisticSports and PlayThePercentage. Both of them offer great predictions for mathematical betting based on historical data from tens of thousands of matches.
StatisticSports, for example, is capable of backtesting your strategy. It means if you have a strategy for football, you can test its profitability based on the past football events they have in their system.
PlayThePercentage, on the other hand, has simpler tools that are also capable of offering an excellent basis for mathematical sports betting.
You can get predictions in a format of percentages or betting lines based on historical data and pure numbers. Tipsters and bettors who have some knowledge about football and in-play betting can benefit from this data.
I know a guy who started offering a free in-play football tipster service based on PlayThePercentage. His overall ROI was around 6%-7% in the long run (6%-7% of the wagered funds).
#5. Martingale staking strategy
I try to follow as many betting-related forums as possible, and I'm still amazed how many people think the martingale strategy is viable.
Of course, the martingale strategy and its variations are mathematical betting strategies. But based on my and other experienced bettors' opinions it's a staking plan that you should avoid at all costs.
It is based on doubling or significantly increasing your stakes every time you lose a bet. In theory, it might work for a while if your starting stake is a very low percentage of your balance.
But it's not uncommon to experience a losing streak of 10+ bets. If you think you will not lose your next bet based on statistics, you might have an unpleasant surprise.
If you are looking for a mathematical staking strategy and not one that can easily ruin your bank, check the Kelly criterion.
#6. Kelly criterion staking system
If you are looking for the most significant profits in the long run, then the Kelly criterion is not the one you need.
This mathematical staking strategy is based on using the same percentage of your balance every time. This percentage depends on your risk tolerance. Many bettors use 3%-4% of their balance to reduce the chance of losing in the long run.
I know my strategies are working, so I can take more risks by using 5%-7% of my actual balance for each bet.
This strategy is excellent for mathematical sports betting because your next stake grows proportionally every time you win.
If you face a losing streak, your losses are getting smaller and smaller.
If you are into testing staking methods and are open to learning more about your possibilities the book Monte Carlo Or Bust: Simple Simulations for Aspiring Sports Bettors written by Joseph Buchdahl might be interesting for you.
Joseph also has some interesting Excel calculators for people wanting to see these distributions for both flat and percentage staking. They are shown under BET CALCULATORS in the right-hand side menu at football-data.co.uk.
Mathematical football betting tips and strategies
Football is one of the best sports for mathematical betting strategies, and the performance of teams and players is relatively predictable compared to sports like tennis.
Below you can find some of my tips for mathematical football betting strategies. I put these mathematical betting tips and strategies in order from the simplest to the riskier.
#1. Tip – Start with matched betting
Many people don't have the starting capital to try the best betting strategies from the start. Taking advantage of the bonus offers is the best step you can take. Even if you have only 50-100 euros for betting, you can start with the smallest bonus offers.
#2. Tip – Practice the arbitrage betting strategy
After making enough profits (over 1500-2000 euros), you can try sure betting. I have a dedicated article on how to find arbitrage betting opportunities.
This mathematical betting method boosted my income to several thousands of euros back in 2015-2017 and helped me to take the next step.
#3. Tip – Try value betting on football
Value betting is the most profitable betting strategy by far. If you are actively sure about betting between a slow and a sharp bookmaker like Pinnacle, you will have the same experience as me.
You will find yourself withdrawing thousands from soft bookmakers and only depositing to sharp bookies.
If you can take some risks for the long-term profits, stop depositing to sharp bookmakers. You will face many losing streaks, but the profits will be higher than at value betting if you follow a staking strategy like the Kelly criterion.
I get questions about value betting each month, and many people ask me if this mathematical betting method is the best for football.
My answer is the following:
Value betting is the most profitable mathematical betting strategy for football. But not every bettor can take the risk of being in a loss for several weeks in the hope of making more in the long run.
If your risk tolerance is low, sure, betting is the best mathematical betting system.
Conclusion: Mathematical betting strategies, tips, and models
Matched and arbitrage betting are the simplest and least risky mathematical betting strategies for beginners. With the help of odds comparison tools or football statistics, value betting requires more patience and experience, but it can offer higher returns.
How to win football bets mathematically?
Matched and arbitrage betting are the easiest mathematical betting strategies for winning on football.
Which are the best mathematical betting strategies?
Matched, arbitrage and value betting are the best mathematical betting strategies that can be learned easily.
Best soccer betting mathematical model and system?
Value betting is the most profitable soccer betting mathematical system. If your risk tolerance is lower, arbitrage betting is also a great mathematical strategy that can guarantee profits after each bet.