Even if you know many arbitrage betting software, picking the best one for your needs is challenging. But if you just started to learn about arbing, choosing the right sure bet finder without proper research is almost impossible.
I've used and tested over 10 relevant tools during my betting career of over 7 years, so you don't have to. I included lists of free & premium arbitrage bet finders in this article.
Best free arbitrage betting software & sure bets finder
There are two types of free arbitrage bet finders: ones with full access to each service for a limited time and the others with limited access but for an unlimited time.
For pre-match arbitrage betting, I can recommend BetBurger and surebet.com. If you plan on switching to a premium subscription, BetBurger will be the apparent winner.
Unfortunately, not every arbitrage bet finder offers a free version of their services, and I think it's understandable from many points of view.
If someone is looking for ways how to beat the bookmakers, they would likely make every effort to avoid paying for software.
Many sure bet service owner is complaining about fighting against users who open free accounts over and over at their services.
#1. BetBurger – Access to free arbitrage bets for unlimited time
Properties:
Delay on free sure bets: 60 sec.
Max profit on free arbs: 1%
Max profit on free value bets: 2%
Bookies covered: 280+
Sports covered: 36+
Pre-match/In-play: Yes/Yes
#2. Surebet.com – Access to free sure bets for unlimited time
Properties:
Delay on free sure bets: 60 sec.
Max profit on free arbs: 1%
Max profit on free value bets: No limitation
Bookies covered: 180+
Sports covered: 39+
Pre-match/In-play: Yes/No
#3. RebelBetting – Unlimited free arbitrage betting for 2 weeks
Properties:
Delay on free sure bets: No
Max profit on free arbs: Unlimited
Max profit on free value bets: No limitation
Bookies covered: 60+
Sports covered: 10+
Pre-match/In-play: Yes/No
#4. BetWasp – BetBurger product – free sure & value betting software
Properties:
Delay on free sure bets: No
Max profit on free arbs: Unlimited
Max profit on free value bets: No limitation
Bookies covered: 15+ (a growing number)
Sports covered: 38
Pre-match/In-play: No/Yes
#5. OddsBoom – free arbitrage bets for USA & Canada
Properties:
Delay on free sure bets: No
Limited access to free sure bets
Free odds comparison site
Bookies covered: 100+
Sports covered: 12
Pre-match/In-play: Yes/No
#6. OddsJam – free arbitrage bets for USA & Canada – 7-day free trial
Properties:
Delay on free sure bets: No
Max profit on free arbs: Unlimited
Max profit on free value bets: No limitation
Bookies covered: 36+ (a growing number)
Sports covered: 7
Pre-match/In-play: Yes/Yes
Best Premium arbitrage betting Software – top sure bet finders
#1. BetBurger – Premium arbitrage bet finder
BetBurger is at the top of my list for both their free and premium version for a good reason.
I am still using their In-play arbitrage bet finder, and I genuinely think there is no other service with such a comprehensive offer.
Price: €129/€229 per month. They have daily, weekly, and yearly subscriptions too.
Bookies: 80+ 230 of their clone bookmakers
Sports: 36+ including each popular/important sport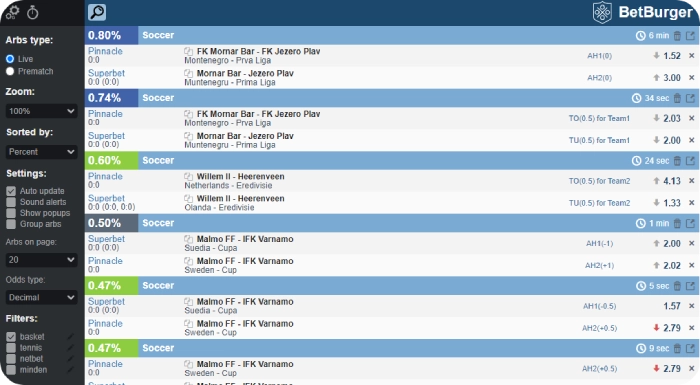 My experience and some facts about BetBurger:
Scanning the most bookmakers
By covering over 80 base bookies and hundreds of their clones, BetBurger is scanning the most bookies. They cover all essential betting sites from the EU, and many from Africa, Asia, and even USA and Canada.
Fast and reasonably accurate display of arbs
Based on my experience, BetBurger is not the fastest scanner, but the difference between them and the top ones is unnoticeable (0.1-0.5 sec.).
When it comes to displaying accurate odds, BetBurger sometimes seems to struggle with offering perfect odds. It's not uncommon to experience wrong arbs (wrong markets or not correct odds).
By reading this, you could ask why they are nr. 1 in this list. Well, every sure bet finder is making mistakes, and even the most expensive ones can't offer a perfect service 7/24.
Best In-play arb finder (except football)
Their arbitrage bet finder for in-play matches is covering the most sports and bookmakers by far, compared to their competitors.
By scanning many betting markets at hundreds of bookmakers even when the matches are In-play, BetBurger is offering insane sure betting opportunities.
Pre-match sure betting is relatively profitable, but many people practice it, and the bookies can easily spot them.
When the matches are live, the bookies are making even bigger mistakes, and it is harder for them to correct those instantly.
#2. Surebet.com – Affordable arbitrage betting software – Pre-match
Many arbitrage bettors from Europe started their sure betting career with Surebet.com (or around the years 2012-2016).
Price: €8.9/€28.9 per week/month
Bookies: covering over 190 bookmakers from all around the world, but focusing on EU and Africa
Sports: 60+ different sports and sub leagues

My experience and properties of Surebet.com:
Fairly accurate sure bet finder
I started using their services for matched betting but later shifted to arbitrage betting. Like other arb finders, they sometimes display arbs on wrong odds or mistaken markets.
But overall, Surebet.com displays betting opportunities fairly accurately, despite its low subscription fee.
Straightforward filters and many bookies
The most significant advantage of surebet.com is its simplicity, and you will get arbitrage bets from hundreds of bookies on a simple and beginner-friendly platform.
Back in 2014, when I knew nothing about this betting strategy, I figured out each of their tools in 5-10 minutes.
Advantages of surebet.com
Offering a free sure bet finder with a profit of up to 1% on each bet. Great for onboarding, beginner bettors.
100% free value betting software without any kind of limitations. I tested them, making some mistakes, but it is a fantastic tool.
You can get both of this arbitrage / value betting software with a 60-sec delay
They cover over 180 bookmakers (constantly changing), focusing on betting sites from the EU, Africa, and Asia.
You can find even less known local bookies.
Their arbitrage bet finder includes opportunities from all major sports and even smaller types, like 4×4 basketball, eSports, etc.
Who could benefit from surebet.com?
Everyone with beginner, middle-level experience in arbitrage betting can use their service without needing a more premium service. Their affordable weekly/monthly fees are accessible to almost anyone.
#3. ArbMate Review – 2nd fastest football sure bet finder
ArbMate is the second-fastest software for football arbing. They are scanning fewer markets than OddStorm, which results in a way lower subscription fees.
Price: €19, which includes: Bwin, Pinnacle, Bet365. You can get additional bookies for €3-€12 each.
Bookies: 60+
Sports: Only football + eSports. 14+ markets and cross markets are scanned.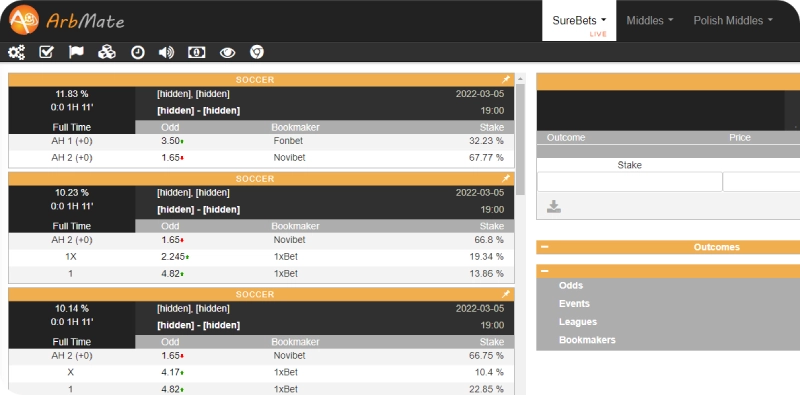 Advantages of ArbMate
Fast, sure bet finder for football
Affordable prices. You don't have to pay for bookies that you are not using
User-friendly interface with notifications, great, sure bet calculator
Redirection tool for free (with only one click it is opening the football event at the desired bookie)
Pre-match/In-play arbitrage finders as well
Polish and middle bets are available
Target audience:
European sure bettors with beginner/medium level experience
Arbers to focus on football
Bettors who don't use over 15-20 bookies (OddStorm or BetBurger might be cheaper in this case)
#4. OddsBoom Review – Arbitrage software in the USA & Canada
OddsBoom is the most affordable compact odds comparison site. Besides this tool, they offer services like Bonus cruncher (for matched betting) and arbitrage betting software.
Price: $5/day, $15/month, $150/year
Bookies: 100+, including international and offshore betting sites
Sports: 7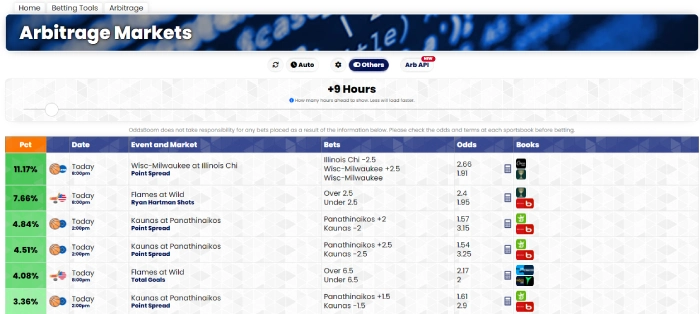 Advantages of OddsBoom
Affordable for each bettor
Displaying fairly accurate odds on arbitrage bets
Excellent user interface
On of the best sure bet finders for bettors from the US or Canada
Great filters for markets and bookmakers as well
You can read more about this arbitrage betting software in my detailed OddsBoom Review.
#5. OddsJam Review – premium arbitrage bet finder – USA
OddsJam has the most customers in the US. At the moment, they are offering the most comprehensive blog for learning sure betting and value betting (for bettors from the US).
Price: $9/$99 – daily/monthly subscription
Bookies: 34+ (growing number due to constant development)
Sports: 9

Advantages of OddsJam
Full access for each tool for 7 days for free
Fairly fast scanner, compared to European based sure bet finders
In the basic subscription plan, you can get the low-holds and odds comparison tools as well
They are focusing on the bookies with many sure bets
Many tutorial videos on YouTube
Do you need more info? Check my detailed OddsJam review.
#6. Breaking Bet – budget-friendly sure bet finder
Breaking bet is the cheapest arbing software I ever used. Despite their low fees, they display many arbitrage bets that are also fairly accurate.
Price: €3.99-€11.99
Bookies: 47 for pre-match arbing and 32 In-play
Sports: 12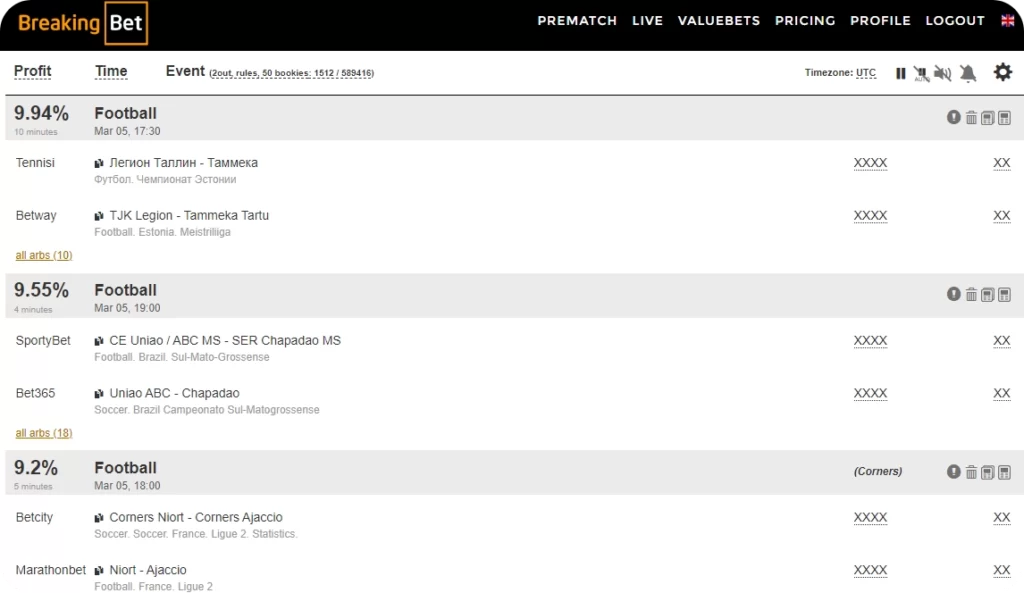 Advantages of Breaking Bet
Focusing on bettors from Africa and the EU
Affordable even for total beginners with a very low starting capital
User-friendly interface and filters
Overall, Breaking Bet is a great arbitrage betting software for someone with a lower budget. But I would like to mention that expecting the same number of sure bets from Breaking bet compared to a tool that costs 30-120 euros a month is unreal.
Need more info? Check my detailed Breaking Bet Review.
#7. RebelBetting review – unlimited arbitrage betting software for 14 days
RebelBetting has had an important place in pre-match arbitrage betting for many long years. They always focused on keeping their customers satisfied, and that's why they stuck only to pre-match sure betting.
Price: €89/€179 per month Starter/Pro subscription
Bookies: 60+
Sports: 10+

Advantages of RebelBetting
Premium arbitrage betting software for Pre-match
You can get full access to their services for 14 days for Free
No delay and profit limitation in displaying sure betting opportunities with the free version (the only similar service for EU, African, Asian bettors)
You can test this sure betting software for free without risking your money
Their software can be downloaded or used in your internet browser
They are focusing on displaying accurate sure betting opportunities
By having a fast arb scanner and accurate odds, Rebel Betting is treated like a top tier arbitrage and value betting software
Need more info? Check my RebelBetting Review.
#8. OddStorm – fastest arbitrage bet finder for football
I have compared many sure bet scanners with each other. Whenever I'm actively arbitrage betting, I have to focus on using fast software with trustworthy odds.
Price: €155/€195 per month In-play – they have daily/weekly subscriptions as well
Bookies: 71+
Sports: Football only, but every important and even minor markets
OddStorm is claiming that their scanner is the fastest one for football. I tested this by opening the top 3 in-play arb finders for football.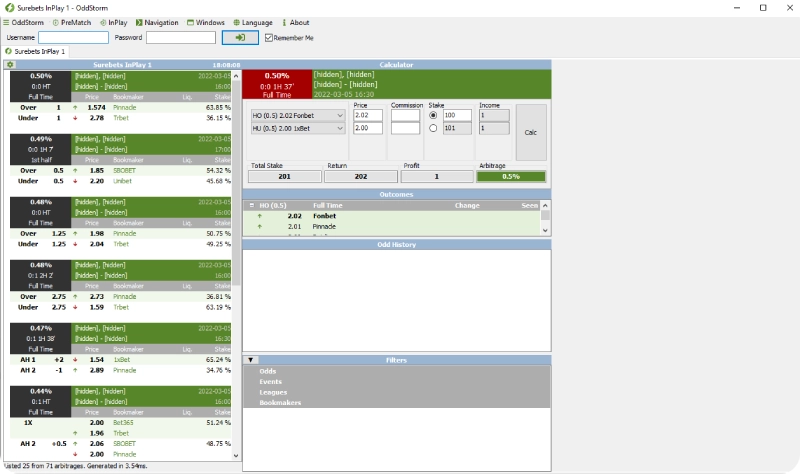 After a short experiment, the result was the following:
OddStorm is truly the fastest overall. BetBurger has displayed many sure bets before OddStorm, and I started thinking they are faster. But after checking them for several minutes (in a busy period), I noticed a slight advantage at OddStorm. This 0.2-0.4 sec can mean a lot in arbitrage betting
OddStorm is covering more markets and cross-market sure bets
For whom I would recommend OddStorm?
For those who need arbitrage betting software only for football
Experienced sure bettors (required bigger capital)
Bettors from the UK, Sweden, Norway
Looking for software that is capable of redirecting you to the bet slip with one click
#9. BetWasp – semi-automated arbitrage betting software
BetWasp is offering In-play arbitrage betting opportunities as a side business of BetBurger. This sure bet scanner is operating as a downloadable application.
Price: free at the moment
Bookies: 15
Sports: 38
Advantages of BetWasp
Fast sure bet finder
It was developed for automatically placing sure bets after selecting the events
Their redirection tool is great for placing more sure bet even faster
Excellent for fast sports like Basketball or Tennis
Which is the best arbitrage betting finder software for your needs?
I've been arbitrage betting for a while, and I think there is a habit that each sure bettor should have. Looking for a new arbitrage betting software once in 1-2 months should be mandatory for each of us.
Each arber is looking for new opportunities to make more profits. Many times this can be achieved by finding new software.
Why look for a new arbitrage bet finder?
You can find a sure bet software that covers more bookies
It can have a faster scanner -> more sure bets
Some arb finders cover more sports/markets
It might have a lower monthly fee with the same services
Based on my experience, here is a short guide for the best arbitrage betting finders:
Football: Budget – ArbMate; Premium – OddStorm;
Other sports: Budget – Surebet.com,

Breaking Bet

, OddsBoom (US); Premium – BetBurger, RebelBetting, OddsJam (US);
In-Play: Budget – ArbMate,

Breaking Bet

; Premium – BetBurger;
Arbitrage betting finder: free or paid software
Achievable profit
Significantly more with paid software, even if you opt-in for a premium service
The difference might be even 15X
Number of sure bets
You can place more bets with a paid tool because free sure bets are delayed (except with the free trials of RebelBetting or OddsJam
Many free arbitrage bets will be disappeared until the software can display them
Bookmaker/sports/markets covered
Each arbitrage bet finder covers the same number of bookies in their free and paid version
The same goes for sports and markets covered
FAQ
Which are the best arbitrage bet finder?
1. BetBurger – EU
2. OddsBoom, OddsJam – USA & Canada
3. OddStorm – football, EU
4. ArbMate – football, budget, EU + Africa
5. Breaking Bet – Africa, cheap
Best arbitrage betting software with a downloadable app?
1. OddStorm
2. RebelBetting
3. BetWasp