Breaking Bet Review [2023] – Opinion after using it
I created this Breaking Bet review to share my experiences with this arbitrage betting software and present each tool.
I have used their services many times for different betting strategies, and almost every time, I got more than I expected.
Breaking Bet Review Summary – 2022 actualized
Breaking Bet is an arbitrage and value betting software that scans around 50 bookmakers. Many of these bookies have clone betting sites (same odds), making Breaking Bet a very cheap service that offers a great value for that price.
Breaking Bet displays arbitrage betting opportunities from bookies available in African, Asian, and European countries. Their subscription fee is one of the lowest despite their great services.
Prices
Pre-match or Live Arb (7 days) – €5.99/€7.99
Pre-match or Live Arb (1 Month) – €18.99/€24.99
Pre-match or Live Value (7 days) – €3.99/€4.99
Pre-match or Live Value (1 Month) – €11.99/€15.99
Pros of using Breaking Bet
47 bookies scanned for Pre-match and 32 for In-play betting
Fairly accurate odds scanner
Great scanning speed on pre-match and in-play as well
Subscription freezing option up to 30 days
Sports scanned: 12
User & even beginner-friendly interface
Tool for saving betting history and displaying betting statistics
Most affordable sure bet service
Insanely cheap value betting software
Cons of using Breaking Bet
You will get less sure bets compared to a premium service
Smaller betting markets are not covered
General info about Breaking Bet
Breaking Bet started offering arbitrage and value betting services back in 2018. Their main goal was not to compete with the big player in this industry.
Other premium services are already scanning bookies from the UK and wealthier countries with many bookies.
Breaking Bet started scanning bookies and displaying sure/value bets for:
Beginner bettors without a big starting capital
Sure bettors with some experience but only a decent capital
Bettors from: Africa, some countries from Asia, and the EU (they are focusing on these bookies)
Breaking Bet Pre-match arb software review
Most arbitrage bettors are focusing on pre-match sure bets. It requires less experience because the odds are not changing so fast.
Breaking Bet is offering a great, sure bet scanner for pre-match arbing. Every sure betting software is making mistakes. Breaking Bet is not different from them.
Scanning the bookies without offering wrong arbs, on wrong odds, or betting lines is a common issue at arb services.
When I used Breaking Bet, I found some mistakes, but overall, they offer a great service. They display arbs with fairly high accuracy.
Steps to set up a basic pre-match filter at Breaking Bet:
Go to filters: go to Profile > Settings
Set up the default currency
Profit range: I advise using between 1% and 5% (don't be greedy, it will get your betting account limited way faster)
Lifetime range: leave it empty
Event time: I would advise using a max of 12 hours
Markets: accept all
Sure bets with 2 outcomes are the easiest (never forced 3-way bets)
Select your bookmakers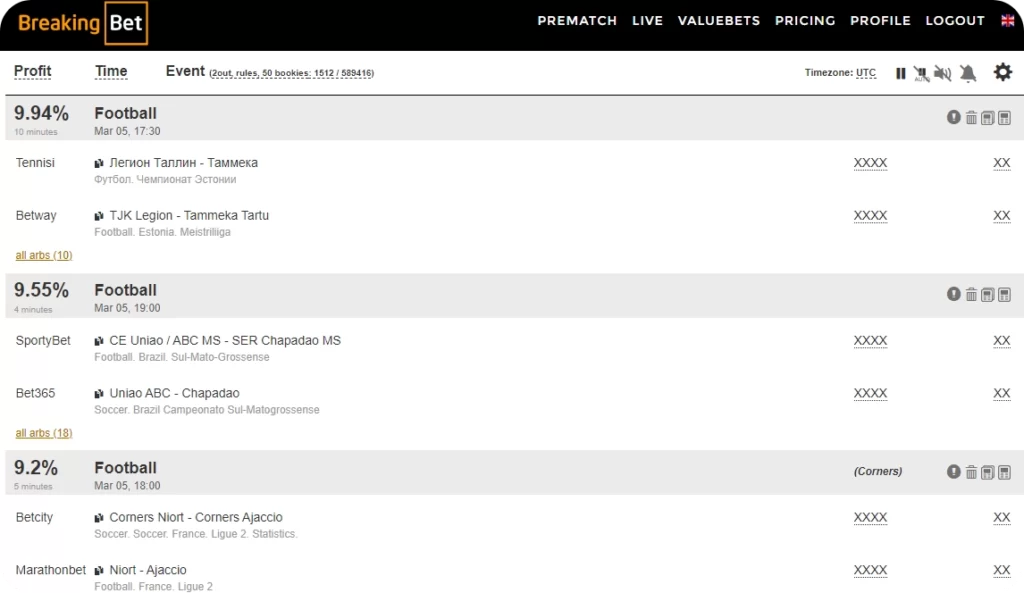 Sports scanned at Breaking Bet
Breaking Bet is displaying betting opportunities on 12 different sports. This number includes Football, Hockey, Handball, Volleyball, Basketball, Tennis, Baseball, Boxing, MMA, e-Sports, TableTennis, Darts.
Many of their competitors scan over 30 different sports. Based on my experience, 99% of arbitrage bettors use the following sports only: Football, Tennis, Basketball, American Football, Hockey.
Every other sport has a minimal role, for sure betting. Bookies tend to offer lower maximum stakes and limit faster if you place sure bets on these sports.
I've been betting for many years, and I think the number of sports Breaking Bet is scanning is more than enough.
You could find sure bets on every sport, but placing an arb on these would be a bad idea in most cases.
Bookmakers scanned at Breaking Bet
Breaking Bet covers around 50 bookmakers and 132 of their clones. Like at every arbitrage betting service, this number is constantly changing.
Below you can check my screenshot with the bookies available at the moment.
If you are from Africa, you might be familiar with many of these bookies. Breaking Bet is focusing on scanning as many bookies from Africa as possible.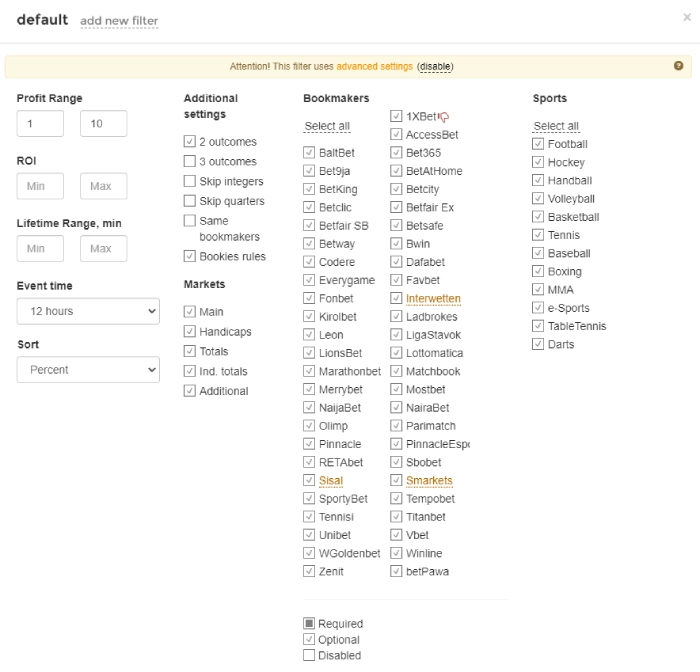 They are one of the best services for arbitrage betting from the following countries: Nigeria, South Africa, Ghana, and Kenya. It is also great for arbitrage betting in India.
Pre-match arb pricing
If you are looking for the most affordable sure betting service, you have two options: choosing a free service with limitations or picking Breaking Bet instead. Their prices are the lowest in this industry, and you can try their sure betting service even for 3.99€ for a week.
1. 7 days: 5.99€ (renewal price 3€)
2. 30 days: 18.99€ (renewal price 10.5€)
3. 90 days: 49.99€ (16.66€/month)
4. 180 days: 89.99€ (15€/month)
5. 365 days: 169.99€ (13.97€/month)
Breaking Bet Review of In-play arb software
I've been arbing on In-play events since my second year of sure betting. Many bettors don't take the time to get experienced in it, which is a missed opportunity. Actually, it's a great one.
Breaking Bet has a great in-play even scanner, opening opportunities for betting for more money and fewer limitations.
Most bookmakers can't spot arbing activity on in-play events compared to pre-match sure betting.
When I tested/used Breaking Bet for in-play betting, I noticed some wrong arbs with wrong odds or betting lines. But I was satisfied with their performance.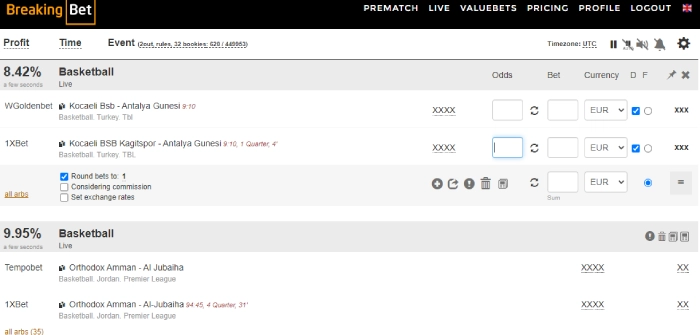 To be honest, if you get access to an in-play scanner for so cheap, you can't complain even about major issues. Fortunately, it's not the case at Breaking Bet.
Most sure bet scanners struggle with their in-play sure betting software.
My advice: before you start placing bets, checking if the odds are right at each outcome is essential. This is important when you are value betting. I often forget to check if Pinnacle is scanned properly, and I learned from this mistake the hard way.
Tips for using Breaking Bet's in play service
If you don't have too much experience with in-play arbing start with football
Always place your first bet at the slow/soft bookmaker.
If you can, check the live stream. You don't want to place an arb right before a free-kick, corner, or dangerous attack.
If you have more experience, Breaking Bet is great for finding sure bets on faster sports like basketball or tennis (they are more profitable)
Breaking Bet In-play: scanned bookies and pricing
Breaking Bet is covering 32 bookmakers in their In-play arbitrage software. The majority of these bookies have a clone bookmaker. So, this number is over 120 with them.
In-play pricing
7 days: 7.99€ (renewal price 7.2€)
30 days: 24.99€ (renewal price 21.25€)
90 days: 67.99€ (22.66€/month)
180 days: 119.99€ (20€/month)
365 days: 224.99€ (18.49€/month)
Breaking Bet Value betting review
Value betting will always be my top betting strategy. If you want to practice it with Breaking Bet, you will get excellent service and even cheaper than arbing.
Value betting gets profitable in the long run, and it's based on placing bets on overpriced odds and waiting for mathematics to hit in the long run.
Bookmakers covered for value betting
The same 50+ bookies and their 132 clone bookies are available in sure betting.
Breaking Bet arbitrage calculator
Each sure betting opportunity has its arb calculator. It will open the sure bet calculator right under the arb opportunity by clicking on it.
This way, you don't have to manage new tabs like other services.
How to use Breaking Bet?
Breaking Bet can be used by any arbitrage and value bettors of every level of experience. But their services have low subscription fees, which favors beginner and mid-level bettors.
You can use Breaking Bet for:
Pre-match/In-play arbitrage betting
Pre-match/In-play value betting
Both of these strategies are supported by Breaking Bet's fast odds scanner service.
How should you use Breaking Bet?
1. Start with pre-match arbitrage betting
This requires less previous experience. Even someone with no knowledge about sports betting and sports, in general, can profit from it. You need to learn only the basics.
The odds are moving slower compared to in-play arbing, and it can generate a guaranteed profit every time (if you don't make mistakes).
2. Try In-play arbitrage betting
Live arbitrage requires some experience. The odds are moving fast on the majority of sports/markets, and even a minor mistake can generate a decent loss.
Breaking Bet displays in-play arb fairly fast, but you need to be very fast to place both legs of your bets before the odds could drop.
3. Start value betting
As I already mentioned, value betting is significantly more profitable compared to sure betting. I experience an approximately 60% higher income with lower stakes in my own activity.
But before starting this strategy, you should know that experiencing a longer losing streak is not uncommon. But overall, you will have more winning streaks.
Breaking Bet promo code
At the moment, Sure Bet Advice can't offer promo codes for Breaking Bet.
Breaking Bet free
Breaking Bet does not have a free subscription plan at the moment.
Conclusion: Breaking Bet Review and Opinion
Breaking Bet is the best arbitrage & value betting software for many countries in Africa, Asia, and Europe. Besides the 50 basic bookmakers, they also cover 130 additional clone betting sites.
Their affordable pricing plans and the possibility of opting in only for one week is a great pick for bettors with a lower starting capital.
If you want to read more about sure betting, check my bonus tips on how to find arbitrage betting opportunities.
I have also created an article with the list of the best arbitrage betting software that also includes the top free arb finders.