BetBurger Review & Opinion: Is it really worth it? (2023)
In this BetBurger review, you will find out whether this will be your perfect tool for arbitrage or value betting or not.
After using them for several years I figured out each of their weaknesses but also some tricks/filters which can easily increase your profits.
Review of BetBurger Layout and Interface
In my experience, the layout of a sure betting or value betting software is the least important factor when looking for the best service.
Scanning speed, accuracy, and filtering options are more important.
But let's see how BetBurger performs when reviewing its layout and user interface.
As you can see in the picture below, BetBurger has a pretty straightforward interface.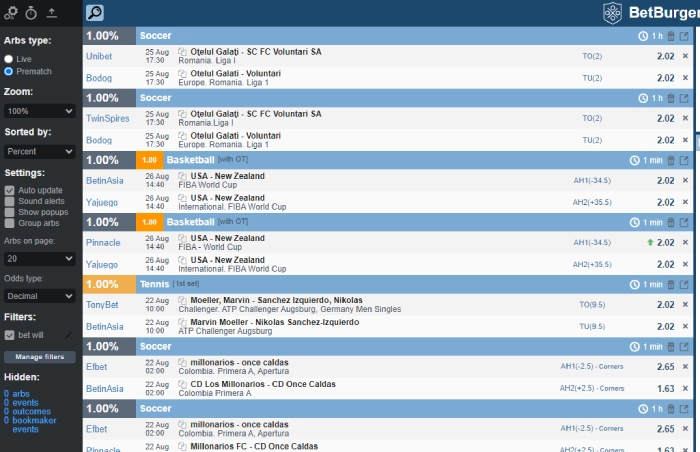 After choosing the Surebet/Valuebets service from the main menu, at the left side of BetBurger's main interface you will see the easiest access to the majority of settings.
At the top, you can change the Arbs type, which means the timing of the sure bets.
This will be selected based on your BetBurger subscription plan (pre-match or live).
The next important part is the Sorted by. I believe this is a pretty important setting for pro users.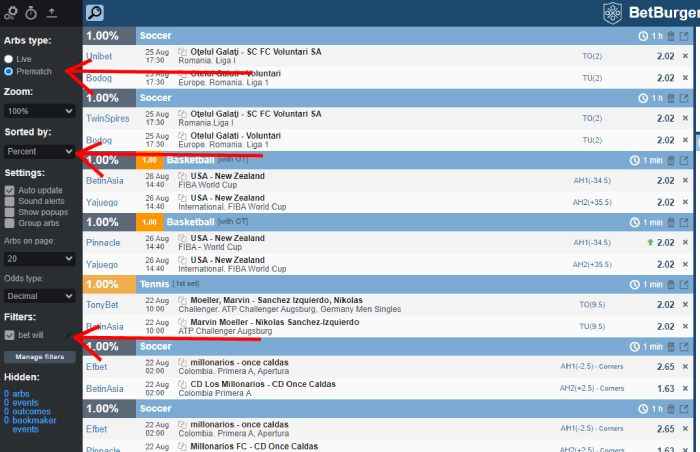 Here you should select if betting opportunities with the highest profit % or the most recent ones should be on the top.
The Filters option at the bottom left bar of BetBurger will give you access to modify your settings or Disable/Enable a filter.
BetBurger is industry-leading in offering the best-developed filtering system for sure betting and value betting.
But more on this later.
Number of Arbs/Value bets displayed
When it comes to reviewing BetBurger or any other similar service, the amount of betting opportunities they display is the most important factor.
After using each relevant software, I can say without any doubt, BetBurger is displaying the most arbitrage bets and value betting opportunities.
Despite their weaknesses, you will have a serious competitive edge over betting sites and other bettors when using BetBurger.
Many people don't know how to properly set up their arbing filters.
In my experience, after serious research and some days/weeks of experience, the filtering system of BetBurger can be set up perfectly.
And when it's done, BetBurger is displaying the most amount of arbitrage opportunities because of its wide range of sports, leagues, and market coverage.
The biggest advantage of BetBurger is its cross-market odds scanner service.
By comparing Asian handicaps with European handicaps, as an example, BetBurger opens a wide range of new arbitrage betting opportunities.
Most other sure bet finders won't show many betting opportunities displayed at BetBurger.
In some reviews, you might get the impression about BetBurger as being an expensive tool with nothing special to offer.
After using BetBurger for years and making several thousand of $ with its help, I guarantee you won't be disappointed with their services.
BetBurger Bookmakers and Exchanges
When it comes to the number of bookmakers, exchanges scanned, and arbitrage friendly bookmakers, BetBurger also offers outstanding coverage.
It is scanning betting sites from all around the world.
BetBurger is focusing mostly on displaying arbs and value bets at bookies from Europe, Africa, and North America.
However, they also cover plenty of Asian and some Australian betting sites as well.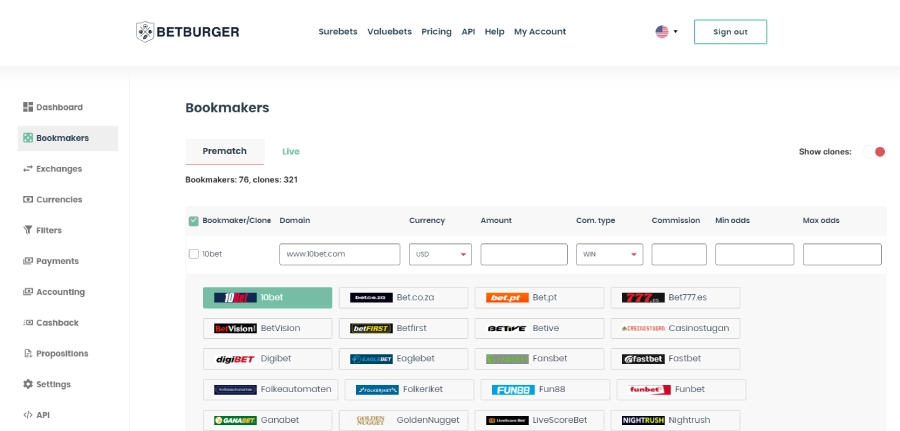 BetBurger is covering 76 bookmakers plus 321 clones of these in its pre-match service.
When opting in for the in-play BetBurger arb/value software, you will get access to betting opportunities from 79 bookies + 337 of their clones including exchanges as well.
Even if you are from a smaller European country, BetBurger most probably will scan your most important betting sites.
How to select bookmakers at BetBurger?
If a betting site is not showing up in your filter settings, here is how to add them.
My Account > Bookmakers > Prematch/Live > Turn on the "Show clone" toggle button > Find the clone you are looking for > Highlight it with a click > Scroll down and hit save.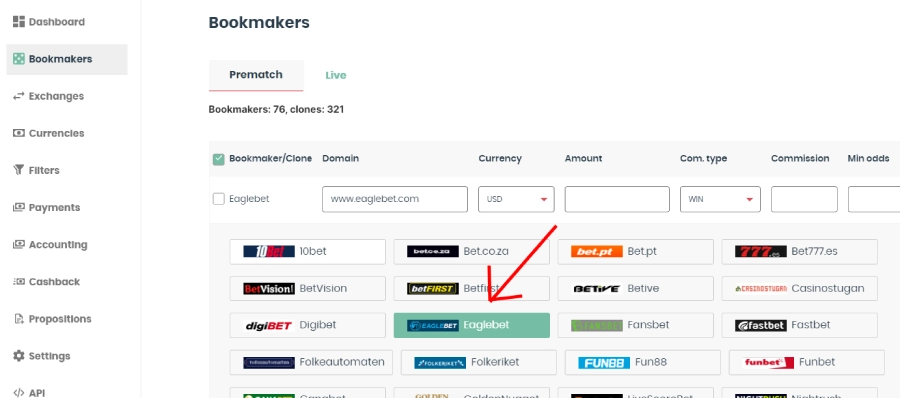 Now BetBurger will display that clone bookie in your filter settings.
Important BetBurger Features
Arbitrage Bet Types
When it comes to timing, BetBurger is offering both pre-match and in-play arbitrage bet finders.
How to find it?
My account > Filters > Surebets Prematch / Surebets Live > Add filter > Edit

They are offering the opportunity of choosing between other types of sure bets like Middle or Simple arbs.
Filters at BetBurger
BetBurger has the most advanced filtering system in this industry.
I used every significant arbitrage and value bet finder and did not find anything close to theirs.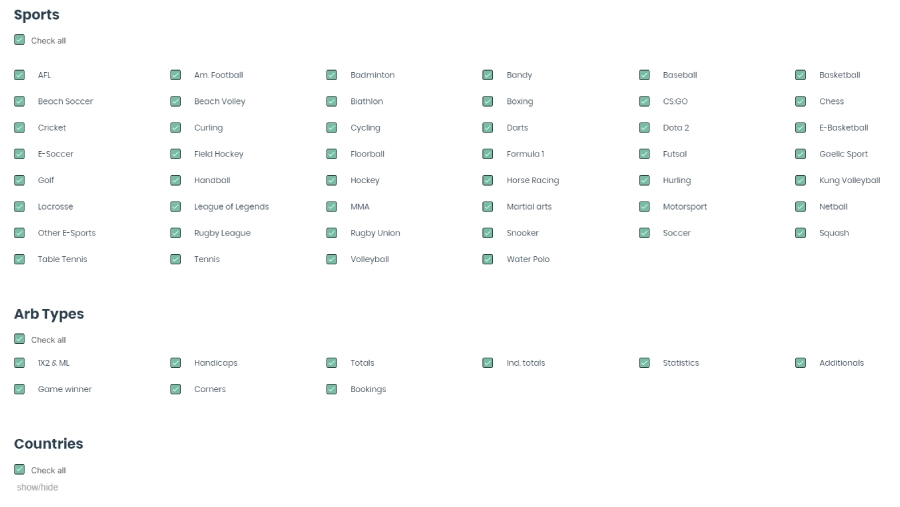 Here are the most important filters that will help you narrow down the betting opportunities displayed:
Arb's percent (you can specify the low and high end of the profitability as well)
Arb's age, min or sec (depending on using the pre-match or live tool, you can hide the betting opportunities that are shown too early: to reduce spam)
Odds value (you can exclude certain odds ranges that are too high or low for your strategy)
Match time, min: only for soccer (bets will be displayed only if they are inside a certain time frame)
Bookmakers included (you can tag certain bookies as Required, so BetBurger will show only the bets that include your bookie)
Sports for arbitrage betting (46 covered)
Arb types (divided into 9 main categories which cover basically almost every essential and smaller market as well)
Countries (you can apply filters to show sports events only from certain countries)
Outcomes (2 or 3)
Leagues (you can exclude or include certain leagues from your filters with the autocomplete searcher)
Integrated BetBurger Betting/Stake Calculator
A properly working stake calculator is an essential part of an arbitrage or value bet finder.
In my experience, BetBurger is outstanding when it comes to using its integrated calculator.
After clicking on a betting opportunity, a new tab will show up on the right side of your window.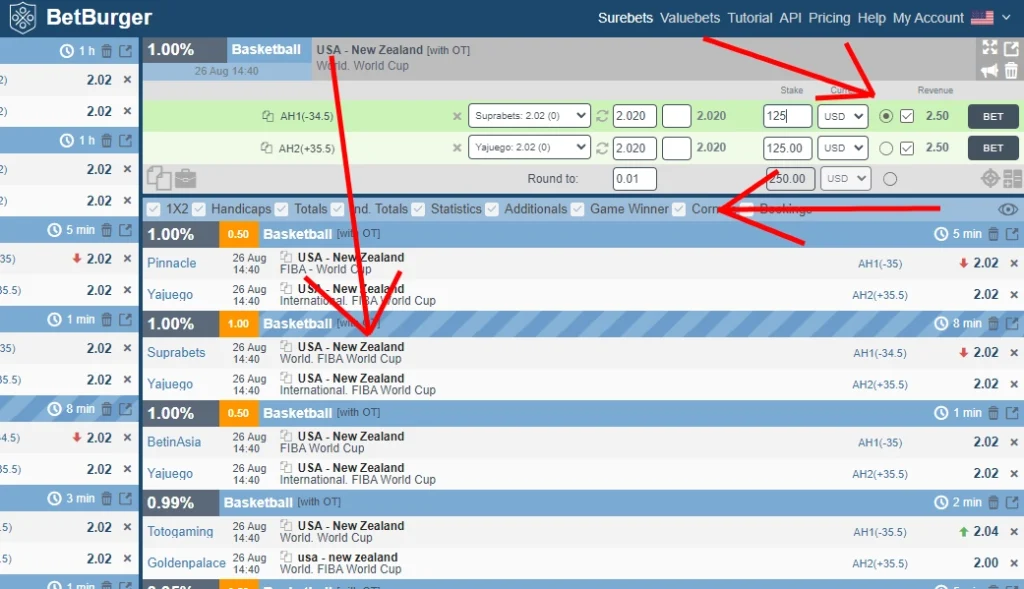 Here you will have several things to choose from.
At the top of the page, you will see the stake calculator for your selected betting opportunity.
There is a little bubble/toggle button. With the help of this, you can choose which outcome you need to insert a fixed stake.
After inserting your desired stake, the betting calculator of BetBurger will automatically display the required stake for the other outcome.
At the bottom of the stake calculator, you will also see many new options/filters.
A new row will appear in BetBurger with additional market filters and other betting opportunities for the same event.
Here you can exclude certain markets for the same event without having to build a new betting filter.
This will help you BetBurger users to achieve higher profitability by a more optimized arbing/value betting activity.
BetBurger redirection to bookies
Being fast and accurate is the main factor of how successful a BetBurger user or a value/arbitrage bettor can be these days.
More and more people realize that using a betting bot is the future and also the present of successfully making money with these strategies.
BetBurger is focusing on helping its users achieve the maximum of their capacity without having to switch to their competitors.
Their Redirection integration together with a paid subscription will skyrocket the amounts of bets you can place with the help of BetBurger.
By clicking on odds or the BET button in the stake calculator the system will open a new tab and redirect you to the right bookie and sports event.
In case you have not opened that match yet, this BetBurger tool will save you extremely valuable time.
The faster you can open a match and place a bet, the more profits you will make in the long run.
In my experience, this BetBurger tool was and still is one of the most important performance boosters.
Does BetBurger have a Forum?
Yes, BetBurger has a forum for their existing and future users. On this forum, you can find some valuable tips and experiences from other users.
On the other hand, it is a great place to share your ideas or concerns about certain BetBurger services, tools, and future ideas.
You can check the BetBurger forum here:
BetBurger Pricing
When it comes to pricing, BetBurger is definitely the cheapest arbitrage/value bet finder.
For serious bettors, it won't even be a surprise.
I used many similar tools, and in most cases, the pricing mirrors the amount of money you can make with that service.
It's not different with BetBurger.
When you opt-in to one of their subscription plans, you will get what you paid for a premium tool with insane amounts of opportunities.
Recently BetBurger gave access to both their Value Bet and Sure Bet finder to anyone who pays for their software.
BetBurger offers the following time frames for their subscription plans:
1 day
7 days
30 days
180 days
360 days
Each has its role and price reduction amount as well.
In my experience, the 1-day and 7 days subscription plans are perfect for bettors with smaller starting capital.
This BetBurger pricing plan also helps you figure out if they are scanning your bookies fast enough, or if the filtering options are good for you or not.
Free BetBurger Subscription
The free BetBurger subscription plan is excellent to figure out their interface, the bookies they cover, the filtering options, and many more.
Here is what you get when you open a free account at BetBurger:
Live results delayed by 1 minute
Prematch results delayed by 15 minutes
Surebets are limited to 1% or lower
Value bets limited to 2%
BetBurger Pricing for premium plans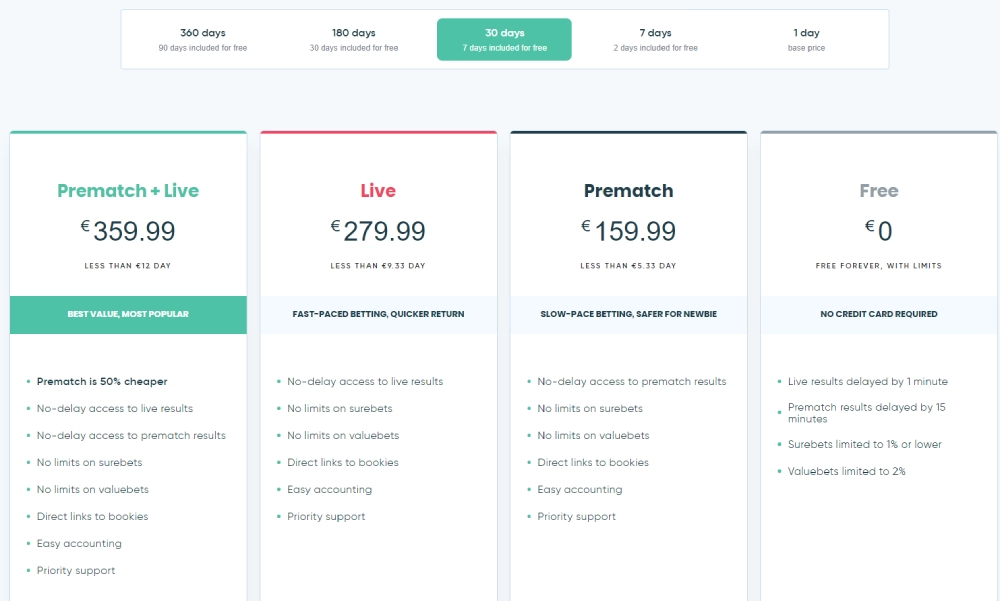 Account Freezing
I was an extreme user of BetBurger for many years.
I used to place bets for at least 8-10 hours each day.
So, maximizing the potential of BetBurger was no question for me.

But even for me, there were days when I could not work. After paying 200+ euros for a service and not using it for a week would be painful and not cost-efficient.
BetBurger has an excellent Account Freezing option.
You can freeze your subscription for at least 7 days up to 28 days.
This way the expiry date of your subscription will be pushed forward and you don't have to feel guilt for not working while having an active account.
Please notice: If you unfreeze your account before the stated time, you'll be additionally charged a one-day subscription price.
BetBurger API
Bettors with the mindset of automating arbitrage betting processes can profit the most with the help of BetBurger.
Recently, they started giving access to their API.
Now you can automate the betting process with the help of the BetBurger API.
Here is a sample of how the BetBurger API looks: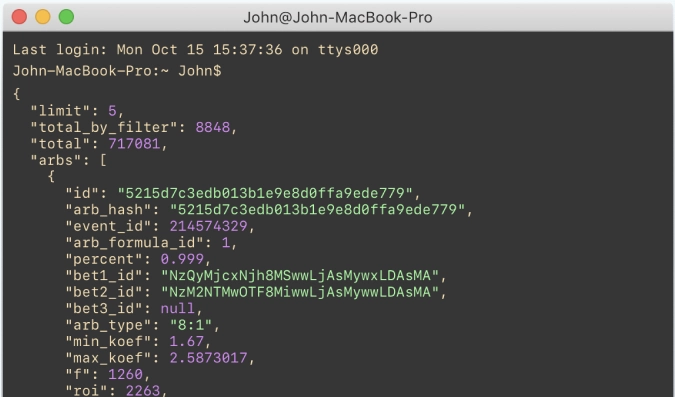 With the BetBurger API, you will be able to exclude manually and slowly place bets.
You will be able to place several times more bets, meaning several times more profits.
Here is how to get the private BetBurger API token.
BetBurger Customer Service
The customer service of BetBurger is working as hard as possible.
But having software which works properly is heavily dependent on bookies and odds providers, they experience many mistakes and errors.
It's not uncommon to experience downtime at certain bookies.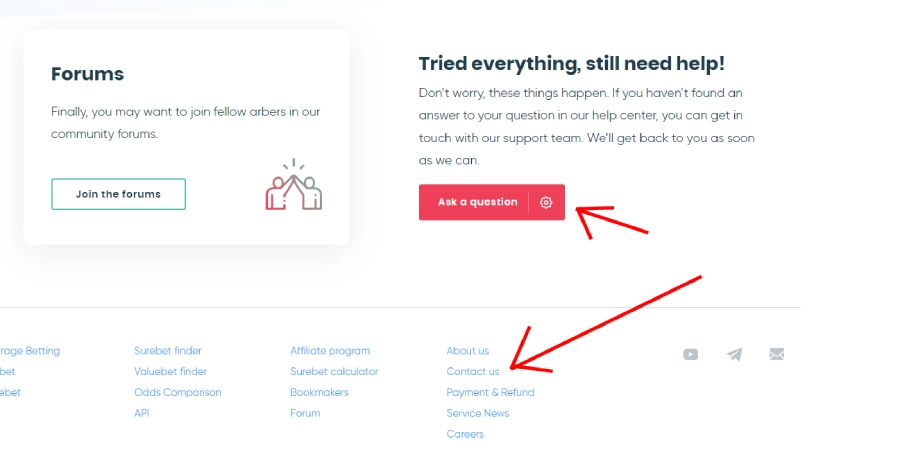 These errors are taken seriously in most cases.
But having in mind the high number of users they have, the customer service of BetBurger is facing a large number of inquiries in these situations.
These situations bring a slower solution and communication of customer service.
Many people might be unsatisfied with how they handle these messages
After using many of their competitors, I believe BetBurger has a pretty fast response and competent customer service.
BetBurger Review – My Opinion on BetBurger
Overall, BetBurger is the best-developed in-play value or arbitrage betting software in the industry. When it comes to pre-match betting, some competitors might have a more mobile-friendly platform.
But professional bettors will take more advantage of the expert-level of filtering system of BetBurger.
With these filters, you can exclude almost every unnecessary betting opportunity and see only the ones you want to place bets on.
These filters and the fast scanning of BetBurger are the main reason why most pro bettors pick them instead of services with prettier interfaces.
FAQ
Is BetBurger trustworthy?
Yes, BetBurger is a trustworthy platform for arbitrage and value betting. It has gained a positive reputation in the industry and has been used by many bettors to identify profitable betting opportunities. The platform is known for its accuracy in scanning bookmakers and exchanges for potential bets.
Is it worth Opting in for BetBurger?
Opting for BetBurger can be highly beneficial for bettors who are interested in arbitrage and value betting. The platform offers a wide range of features, including a powerful filtering system, an integrated stake calculator, and a Chrome extension for faster betting. If you're looking to increase your profits through these strategies, BetBurger's comprehensive tools make it a valuable choice.
Is BetBurger worth it in Australia?
Yes, BetBurger is worth considering for bettors in Australia. While BetBurger predominantly focuses on European, African, and North American bookmakers, it also covers Asian and some Australian betting sites. With its extensive coverage of bookmakers and exchanges, BetBurger can provide valuable opportunities for bettors in Australia.
Is BetBurger worth it in the USA?
BetBurger's coverage of bookmakers and exchanges extends to the USA, making it a viable option for arbitrage bettors in the United States. However, it's important to note that sports betting regulations can vary by state in the US. Before using BetBurger or any betting tool, make sure to understand the legalities of online sports betting in your specific state.