7 Sports Betting Software & Algorithm for Football [2023]
If you are looking for football betting software or a sports betting algorithm in general, this article will answer your questions.
I've been sports betting since 2014 and have used many betting algorithms and services in the hope of generating a decent income.
After a short period, I had to accept that the only way to make profits from sports betting is if I start using software that uses mathematical betting strategies.
OddsJam covers the most (35+) betting sites from the USA and Canada. They offer sure and value betting software in the same subscription plan.
7-day free trial!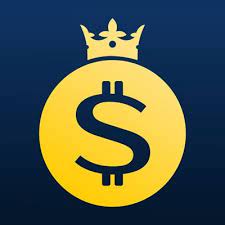 Zcode System gives accurate football predictions and notifications based on analyzing historical data with an algorithm.
7-day trial for $7!

PlayThePercentage offers data analysis for upcoming events based on data from tens of thousands of matches each year.
7-day free trial!
Betting algorithms that use statistics and scan bookmakers for overpriced odds are the surest tools for long-term profitability.
Best sports betting software and algorithm
Below you can find my list of the best betting software and sports betting algorithm applications. I have used all of them in the past few years and made healthy profits with most of them.
#1. OddsJam – professional sports betting software (USA & Canada)
OddsJam started offering odds comparison services in 2021. Their sports betting software and platform are under constant development.
Their large expansion and popularity show the real value of their betting algorithm.
They are offering similar services to RebelBetting. The biggest difference between services is their main goal and the amount of US bookies they scan.
RebelBetting is focused on offering a quality odds comparison site for European bettors, while OddsJam is more like a professional betting software completely focusing on US and Canadian bettors.

They have arbitrage and value betting software with advanced filters and a fairly fast scanner.
Their betting software is capable of scanning pre-match and in-play events as well. The bookies offer wrong pre-match lines and odds very often. But using an algorithm that is capable of spotting these overpriced outcomes can boost your income.
Most betting sites are making hundreds of mistakes on a daily basis. Your only task is taking advantage of them with arbitrage or value betting.
Price
$99 – Arbitrage plan
$199 – Industry plan (arbitrage + value betting algorithms)
Do you need more info? Check my detailed OddsJam review.
#2. Zcode System – football betting software/algorithm
Zcode System has a different approach compared to the services mentioned above. They have historical data from hundreds of thousands of football matches for more than 5 years.
Back in 2019, when I tried their sports betting algorithm, I was surprised by what a good statistical tool is capable of.

What is this sports betting software capable of?
Pre-match statistics
Monitoring pre-match odds movements
You can get additional statistical info for your

best football betting strategy

(checking how viable it is based on historical data and odds)
Setting up notifications for In-play events based on Live event statistics
Spot events with valuable odds/statistics
You can try their services for free with their 7-day trial period for only $7.
#3. PlayThePercentage – football betting software & database
I started using their betting software at the same time as Zcode System.
Their algorithm has a different approach/goal, and it can be useful even if you use another statistics software.
PlayThePercentage has a database of tens of thousands of matches from the past few years.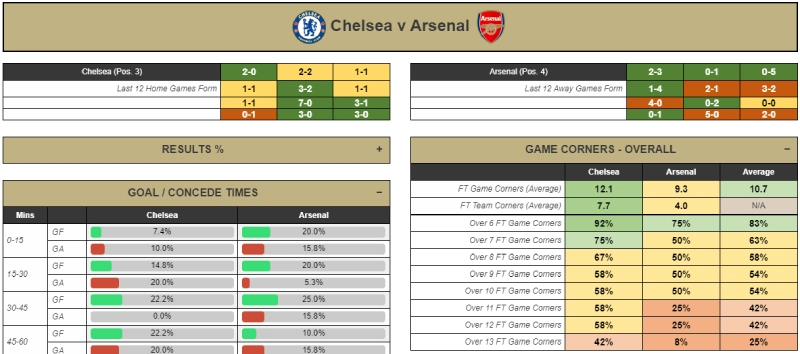 They display statistics and predictions in the format of percentages and betting lines.
This data is based on historical data only. It does not include the opinion of so-called experts. You will get only pure data.
Bettors who know about football and how the odds work can profit from this sports betting software.
They have many guides and even a profitable strategy that can put you on the right path.
Try PlayThePercentage for free with their 7-day free trial.
#4. Breaking Bet – cheap betting algorithm
I have used Breaking Bet for a longer period. Their affordable prices and great software make them almost unavoidable for many smart bettors.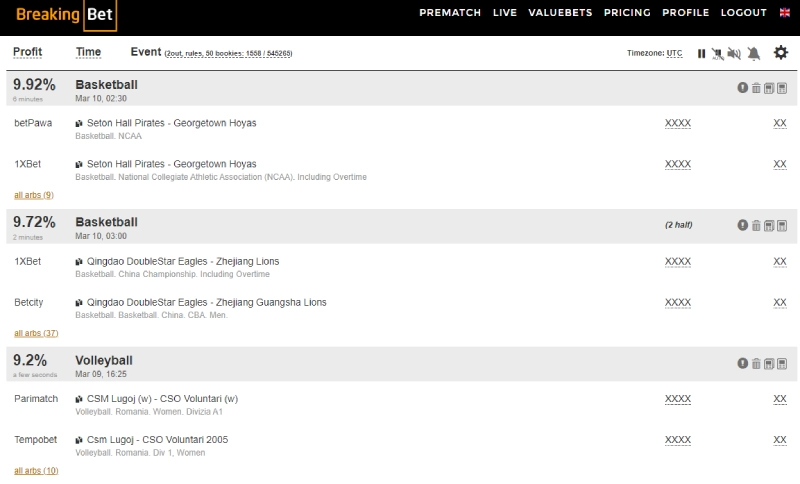 Why Breaking Bet is a great sports betting software?
Scanning over 180 bookmakers for overpriced odds
Displaying arbitrage and value betting opportunities
Excellent user interface and filter with a fast scanner
Best betting software for bettors from Africa and many countries in Asia
Display overpriced odds before the match and in-play also
Price
They have many different pricing plans:
the cheapest pre-match value betting for €3.99/7 days
the most affordable live arbitrage betting algorithm for €24.99/month.
Want to know more about it? Check my in-depth Breaking bet Review.
#5. Surebet.com – pre-match betting software & algorithm
I started using their software back in 2014 for two strategies. Their betting algorithm is perfect for finding overpriced betting outcomes.
Using surebet.com for bonus hunting is the most affordable way of matched betting.
After finishing with these bonus offers, you can start placing arbitrage bets for a bigger return.
Why start using their betting software?
Affordable weekly/monthly subscriptions
Free value bets with each subscription plan
Sure bets without profit limitation with a paid plan
Simple interface
Over 190 bookmakers and 40+ sports covered
Price
Sure bets – 1 week – €8.9
Sure bets – 1 month – €25.9
Need more info? Check my surebet.com review.
#6. BetWasp – automated betting algorithm
BetWasp is offering arbitrage and value betting opportunities on In-play events. Their software is capable of displaying these mistakes and placing the bets automatically with only one click.

Properties of this sports betting software
It's a product of BetBurger (active & trustworthy sure betting software for more than a decade)
It covers only 15+ bookies
You need to complete the settings with the login data of your betting account
When BetWasp displays a betting opportunity, you select it, click on the place the bet, and the algorithm place the bet automatically.
Price
At the moment it's 100% free
#7. OddsBoom – affordable betting algorithm (USA & Canada)
---
!!!Attention!!!
OddsBoom was bought out by OddsJam. The information below is no longer valid. If you need software for arbitrage, value, or matched betting visit my OddsJam review.
---
I have tested and used several betting algorithms that focus on bettors from the USA.
OddsBoom is one of the best sports betting software for bookmakers in the US. They scan US bookies, and by displaying the highest odds on each relevant betting market, they support different strategies.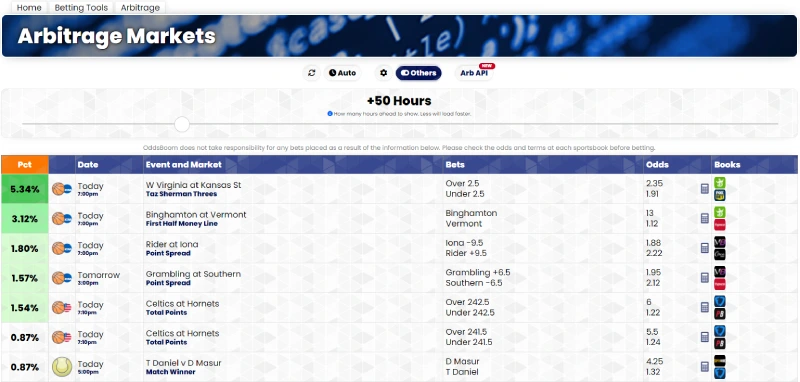 Their sports betting algorithm is essential for the following strategies:
Matched betting (taking advantage of the bonus offers without losing them or your initial deposit)
Arbitrage betting (betting on both outcomes when the odds are wrong – guaranteed profit on each bet)
Value betting (Betting on the highest odds and finding bets with a positive expected value)
Each of these techniques can be practiced with the help of the betting algorithm of OddsBoom.
You can also take a look at my dedicated article about matched betting software in the USA.
Price for Plus membership
$5/day
$15/month
$150/month (save 2 months)
If you need additional info, check my OddsJam review or find out how to find arbitrage bets.
Are football betting software/algorithms useful?
It's not hard finding football betting software on the internet. Many services are offering guaranteed profits even without risks.
Based on my experience, the only strategies that can offer guaranteed profits are matched betting, arbitrage betting, and some types of trading.
Football betting software like Zcode System or PlayThePercentage is great for increasing your profit margin and spotting football matches with great value.
A bettor who already has some level of experience can greatly benefit from using the right football betting software. I have used/tested each of the betting algorithms I mentioned above.
How to use football betting software/algorithm?
The more information and historical data you have, the more accurate your predictions and future bets can be.
The tools I mentioned above are the greatest software for football betting. But each of them has a different goal.
1. Football statistics software/algorithm
You can use them for verifying the correctness and value of your predictions. This software does not offer a guaranteed edge over the bookies.
You need some level of experience and knowledge about football to really profit from the data they provide.
2. Sure betting algorithm
Services like OddsBoom and Breaking bet are the greatest tools you can use if you are looking for a sure betting service.
With sure betting, you can take advantage of the overpriced odds. These sports betting algorithms can display wrong odds like a bookie offering an odds of 2.10 for one tennis player and another also offering 2.10 for the opponent.
By placing a bet on both outcomes with the same stake, you can take a guaranteed profit no matter who wins.
3. Odds comparison betting software
OddsJam is a great platform where you can find the highest odds for each of your bets. Picking these will have a great effect in the long run.
Many bettors undervalue the role of this software. But placing bets always on the highest odds can mean the difference between being in a loss or beating the bookmakers.
Is free sports betting software or a paid subscription plan better?
Using a paid sports betting algorithm will always generate more profits in the long run. This software is offering a free plan only for helping you to understand how they work.
Most of the time, these free plans have some level of limitation that will affect the amount you can make with them.
Many bettors don't have the starting capital for using a paid membership. But by using the free plan of these betting algorithms, bettors can generate enough profit for a premium service.
I know it's painful to pay even 20-30 euros for premium sports betting software. But a free plan is capable of generating 100-250 euros/month, while unlimited software that costs only 30 euros/month can boost your profits up to 700-900 euros easily (just an example based on my experience).
What is a sports betting algorithm capable of?
A sports betting algorithm is used to spot betting opportunities that hold some value for smart bettors. These betting opportunities might be overpriced odds or wrong betting lines.
Many services offer guaranteed profits with the help of their tool or predictions based on some betting algorithm.
Some of them can generate long-term and even risk-free profits from sports betting.
Many of these scripts were developed by bettors with experience who already knew how to make money in betting.
I know bettors and even groups that have sports betting software and even automated betting algorithms. But most of the time, these were not created for a big audience.
A sports betting algorithm can:
Compare odds between bookies
Display the highest odds
Spot arbitrage and value betting opportunities
Offer predictions based on historical data
Analyze in-depth statistics and test the success of a

football betting system

Place bets automatically based on pre-selected filters
Display notifications from in-play events when a new betting opportunity appears
Best sports for these betting algorithms
I used over 12-15 different sports betting software in the past eight years.
1. Football is the best sport for using betting software because of the high number of events, wide selection of betting markets, and odds.
2. Tennis is my second favourite sport for these betting techniques. While in-play betting, the odds are moving fast; the bookies make many mistakes, so you can take advantage of them.
3. Basketball is also a great sport for the same reason.
Which sports betting algorithms to purchase?
For taking advantage of bookmaker bonuses, the greatest betting software in the US is OddsBoom.
For sure betting, you can start with Breaking Bet or Surebet.com. Both of them can satisfy your needs for a low price. If you are looking for a premium service, check my list of the best

arbitrage betting software

.
For betting based on statistics, both the above-mentioned betting software are great (Zcode System and PlaythePercentage)
You might also want to check my article about no verification betting sites that offer an insane amount of bonuses.
FAQ
Which are the best sports betting algorithms to purchase?
1. For US bettors the best sports betting software algorithm to purchase is OddsBoom.
How to use football betting software/algorithm?
1. Find a bookmaker with high odds and a wide variety of betting markets
2. Use a betting algorithm that is capable of comparing odds between bookmakers
3. Follow betting strategies like arbitrage betting or value betting
Which are the best sports betting algorithm?
1. OddsBoom
2. OddsJam
3. Zcode System
4. PlaythePercentage
5. Breaking Bet
6. Surebet.com
7. Betwasp