SUREBET.COM SUMMARY
Surebet.com offers an affordable Pre-match arbitrage betting software for bettors from Europe, Africa, and Asia.
They are scanning around 180 bookies, and this number is constantly changing due to the development of their services.
Surebet.com is one of the first arbitrage betting software, displaying sure bets for way over a decade.
I have actively used their services for many years, and despite their simple interface, most of their sure bets are accurate.
Pros of using Surebet.com
Fairly fast pre-match scanner
The majority of displayed sure bets are accurate (there is no software without mistakes)
Middle bets scanner (line difference that can cause each outcome to win: over 150.5 points under 152.5 points -> at 151 or 152 points each outcome wins)
Browser extension that redirects you to the bookmaker
Low weekly and monthly fees – affordable for anyone
Free value betting service
Cons of Surebet.com
Not covering In-play events
#1. Bookmakers covered by Surebet.com
Surebet.com covers over 90 main bookmakers and many of their clones, over 190 bookies in total.
The majority of these bookmakers accept customers from Europe, Africa, and Asia. Many of them offer great odds and a large variety of betting markets, but none of them is arbitrage or value betting compatible.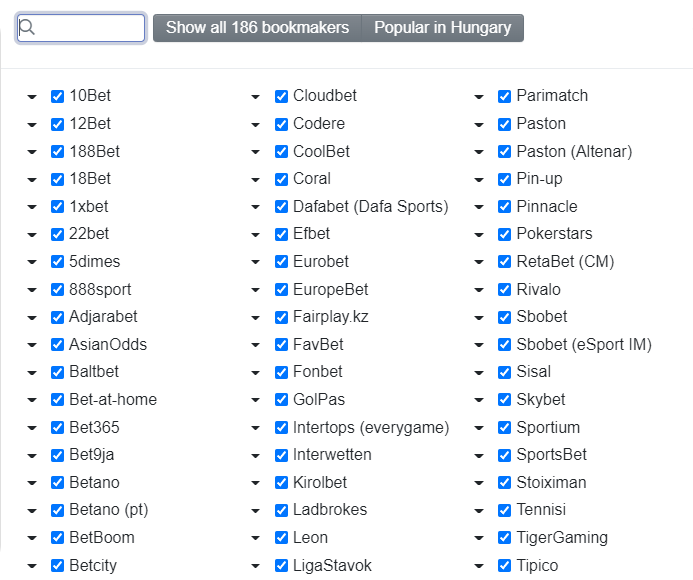 #2. Sports scanned at surebet.com
They cover each sport that might be important for sure betting. Besides major sports like football, tennis, and basketball, they display sure bets from esports, water polo, martial arts, etc.
In total, surebet.com is displaying arbs from 60 different types of sports/events.
If you are looking for less popular sports like eSports categories, like Counter-Strike or Lol, they might be an excellent solution for you.
#3. Betting filters at Surebet.com
The filtering options are an important part of arbitrage betting. The more settings you can apply, the more personalized opportunities you can get.
For example, if you want to focus on quarter handicaps, getting arb from each market in that quarter might distract your attention.
Surebet.com is offering the following filters:
How long is the sure bet available
Sure bet profit percentage
How much time do you have until the start
Number of outcomes on that specific market: 2 or 3
Profit range and ROI on that sure bet
Select bookmakers to show sure bets for
Sports types
Market filters: you can exclude markets like quarters, draw no bets, etc.
#4. Sure bet calculator
The sure bet calculator is available for each betting opportunity individually. After clicking on the calculator icon, a new window will pop up.
This will include the bookmakers, markets, odds, and a general stake. They have a separate sure bet calculator, which can be used any time.
Their calculator is allowing you to:
use it on outcomes up to 10
many cross-market calculators
exchange – lay betting calculator with your commission %
round stakes
Fix one part of your sure bet and calculate the stake size, based on that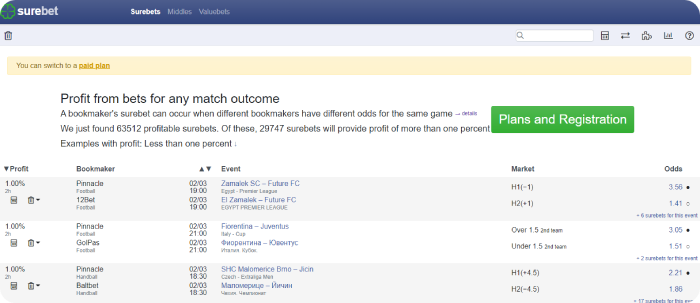 #5. Surebet browser extension for redirection
Surebet.com has developed an essential browser extension capable of redirecting you to the selected bookmaker.
This will open the bet slip for the selected sure bet. It's not working for each bookmaker, but it can make your betting activity faster and more effective.
How does the sure bet redirection tool work?
Click on a sure bet that might be good for your betting strategy
The redirection tool will open an information panel and will automatically open a tab at the selected bookmaker
At some bookmakers, it will automatically open the sports event and the bet slip also
Your only task is to insert the right stakes and click on place bets
The advantages of this redirection tool:
The significantly faster betting process
You can place more sure bets at the same time
Fewer arbs missed because of dropping odds
More profits and less free time in the long run
Unfortunately, Surebet.com could not offer this service for each of the bookies.
Many other sure bet finders are offering similar services, but none of them can cover each bookmaker.
#6. Value betting service at surebet.com
Surebet.com is outstanding by offering a free value betting service without any limitation. Many of their competitors offer this tool but limit the maximum profit percentage to 1%-2%.
With this free value betting tool without limitations, surebet.com offers smart bettors a great opportunity. You can spot overpriced markets from over 180 bookies without paying anything.
For beginners, this tool is perfect for trying these betting techniques without an initial investment. But I truly believe that a free service will never replace a premium paid tool.
#7. Middle betting tool at surebet.com
As I already mentioned, middle bets offer a great opportunity to boost your profits.
These mistakes appear when a bookie offers a slightly different betting line on the same odds as their competitors.
As an example, on basketball, you can find many similar bets like:
The first bookie offered over 82.5 points in the first half on odds of 2
2. bookie under 84.5 points for the same market on odds of 2
Cover both outcomes with the same stakes
If the first half ends with 83 or 84 points, you win both of these bets without risking anything
I think these betting opportunities are a great possibility for increasing your profits.
#8. Pricing plans
Professional plan
You can get access to arbitrage bets and value bets without limitation
€8.90 – 1 week
€25.90 – 1 month
€69.90 – 3 months
€179.90 – 1 year
Professional + Plan:
You need to pay only slightly more to access the middle bet scanner.
€9.90 – 1 week
€27.90 – 1 month
€74.90 – 3 months
€194.90 – 1 year
Conclusion: Surebet.com Review
Surebet.com is a great and trustworthy arbitrage, value, and middle bet finder for bettors from Europe, Africa, and Asia. They cover over 180 bookmakers for Pre-match sure betting on popular and smaller sports.
You might also want to take a look at my following article: How to find arbitrage betting opportunities?
You can also check my in-depth article about the best paid and free arbitrage bet finder.
Surebet.com Review
Nr. of arbs

Interface

Price

Bookmakers

Markets