OddsJam Review Tested: Cost, promo code [2023]
OddsJam can be the software and service that you will share bad reviews about all over the internet if you don't take the time to understand its real value.
But if you are willing to find out how to use their odds comparison service and follow some basic advices and steps, you can make thousands of $ each month with their help.
This software supports betting strategies based on mathematics such as arbitrage, value, and matched betting.
After thorough testing of each of their tools, calculators, application interface, and service + looking for other people's opinions as well, I created this OddsJam review so you can get the most accurate opinion on this tool.
OddsJam offers a 7-day free trial for each of their services (a Bank card is required to avoid exploits).

Advantages and strengths of OddsJam
They scan the majority of significant US bookies (36+) to support the above-mentioned strategies
They include both sure betting and arbitrage betting software in their main subscription plan
Positive EV scanner: displays betting opportunities with wrong odds to gain long-term profits
Integrated arbitrage calculators for each betting opportunity
Fastest real-time odds scanner for US bookmakers
They scan sports events both for pre-match and in-play as well
Hundreds of articles and guides about strategies and the proper use of OddsJam
Customer-friendly, simple user interface
Tools and scanners built with a mobile-first mindset to support bettors who use only these devices
A 7-day free trial for each service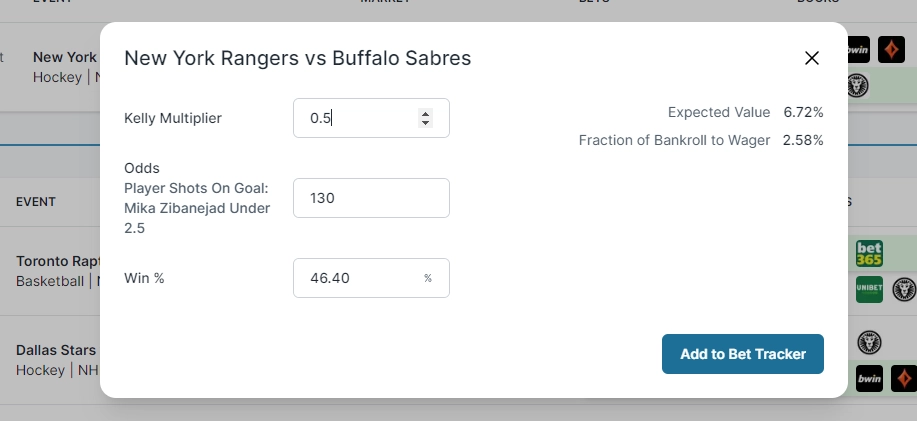 Downsides of OddsJam
No daily or weekly subscription plan for pre-match scanners
Like most of their competitors, they also display betting opportunities that are no longer available
Fairly expensive for many beginner bettors (however, the subscription includes both arbing and value betting services)

Other People said about OddsJam
"I was up 30K first two months using Oddsjam. I gave back 20K in the last month." – Reddit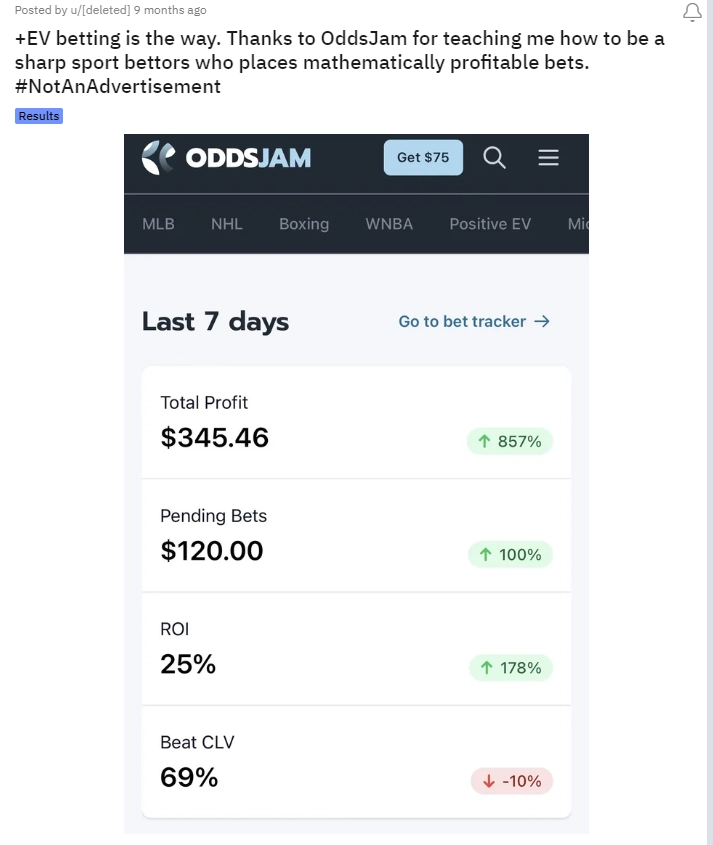 "Pretty new to OddsJam and sports betting but I'm up $10k so far! Most of that has come from taking advantage of promos though. The whole process seems "too easy" though… pretty sure I'm making some mistakes that might bite me in the long run." -Reddit
"I think the biggest trick that they don't explain is that sure they will provide you with all the data and numbers, but it's up to you to figure out which markets are more efficient than others and exhaust more of your efforts/energy into those markets." – Reddit
"Just because it's positive EV, doesn't mean you have to take it.
I'm currently on a down month right now too with some bad breaks." -Reddit
Is OddsJam worth it?
It is worth subscribing to a paid OddsJam plan if you plan to practice betting strategies such as arbitrage or value betting at US bookies.
Their prices might seem too high for many bettors, especially beginners who don't have too much experience in this field.
But after checking their guides and tutorial, you will be able to make guaranteed or long-term profits as well, depending on the strategy you want to follow.
Based on my experience, after reading some of their articles or my arbitrage betting guide, you will be able to make the most out of OddsJam.
OddsJam is worth trying if you have the starting capital (2-3k USD at least) and access to as many US bookies as possible.
Around 97% of average bettors are losing in the long run. If you plan to be a part of the other 3%, OddsJam is an excellent software for beginner and expert bettors as well.
Why people are not satisfied with OddsJam?
It's important to mention that many of their users are not satisfied with their services. Many people post negative reviews about OddsJam on different portals, forums, and social media.
I've been using similar services for many years so here is the main reason why many people are unsuccessful with OddsJam and think this software is a scam or not worth it:
The main statement people say about OddsJam is that betting opportunities disappear displayed by their tools disappear in under a minute.
They struggle to place bets and blame OddsJam for that.
Well, darling…that's not the fault of OddsJam…it's only yours if you are not following basic rules.
Each guide about arbitrage betting or value betting says the following:
You need to have a betting account ready, logged in
Users need to have funds already deposited to each bookie in use
You need to act fast when a new opportunity is displayed. You are not the only one using this kind of service and bookies are also fast in changing odds
In a summary, the majority of bad reviews about their tools come from not learning enough about the strategies themselves or not being fast enough.
In comparison, I was able to place an arbitrage bet in 15-20 sec at max for each step included. If the sports event was opened, that time is even lower.
Is OddsJam legit?
It surprises me how many people think that betting software similar to OddsJam is a scam or they are useless.
I checked many comments under videos about arbitrage and value betting services. Many people shared their thoughts about these services, and some of them called them scams.
I've been actively using similar services, and when I say, OddsJam is legit and is capable of supporting your sure and value betting strategy, I mean it.
It is a simple fact based on my personal experience.
OddsJam is capable of spotting overpriced betting outcomes by scanning US bookies and comparing the odds.
OddsJam Review: strategies supported
By comparing odds between many US bookies, OddsJam is capable of offering many services. Their software is also a top choice for bettors from Canada.
Many bettors are making insane profits with the help of OddsJam or other similar software (most of them are focusing on EU countries and the UK).
Below you can check which strategies and how OddsJam supports them.
1. Arbitrage betting with OddsJam
Arbitrage betting is one of the most straightforward and almost zero-risk betting strategies. Many people say it is 100% risk-free, but based on my experience, everyone is making mistakes.
Human error and some minor external factors (unexpected odds dropping) are the main reasons why arbitrage betting is not risk-free.
OddsJam is a simple yet very effective odds comparison tool that is capable of displaying sure bets.

What are these sure bets or arbs?
When one or more bookmakers offer overpriced odds, smart bettors are capable of covering each outcome with a guaranteed profit no matter who wins.
Example: There is a single tennis match. It's not uncommon that a bookmaker is offering a Moneyline of +110 for one player and another betting site has the same price for another player.
If you place bets on both outcomes with the same odds, you can make a guaranteed profit of 5% of the total stakes.
These sure bets can appear on almost every sports event and on many betting markets.
OddsJam is displaying these sure bets based on your filters:
Required bookmakers
Sports
Profit % on each sure bet
These are the most important setting you need to apply, and you can start making money with arbitrage betting.
OddsJam can display arbitrage bets before the start of the event and in-play as well.
Their betting scanner is the fastest at the moment if you want to cover the majority of US betting sites.
BetBurger is covering some US bookies with a way faster pre-match and in-play scanner. Their filters and interface are more professional, but the US bookie coverage is fairly limited.
2. OddsJam – positive EV betting (value betting)
While arbitrage bettors are looking for odds differences between bookies, value bettors have a slightly different approach.

I've been value betting for many years, and I think OddsJam is a genial software for US bettors.
Value bettors want to spot betting opportunities where the odds are higher compared to the possibility of an outcome.
To find these overpriced odds, you need to know the real chance of that outcome. Some bookies like Pinnacle or Betfair are capable of offering fairly accurate, sharp odds.
Many betting software and strategy is based around comparing slow bookie odds to these faster, sharp bookmakers.
The value betting software at OddsJam displays these betting opportunities where the expected value of a bet is higher than its statistical chance of winning.
The positive EV scanner of OddsJam can't offer guaranteed wins every time. Bettors who are practising this technique are not covering each outcome on the market.
Our profit from value betting with the help of OddsJam is generated by beating the bookmakers in the long run.
By betting on overpriced odds, your winnings will exceed your losses in the long run.
Value betting example with coin toss:
You have a 50% chance of winning
Normally your payout would have an odd of +100
A positive EV bet would be an odd of +110
No matter what happens, you will win 50% of your coin tosses
Losing: you lose 100% of your stake
Win: your stake x 2.1 => a profit of 110%
This difference will allow you to make a guaranteed profit in the long run. After several hundred sports bets, the statistical chance of an outcome will always be realized.
If you can get higher odds and better prices, you will make a generous profit.
I've placed tens of thousands of value bets (if not hundreds), resulting in massive profits.
Value betting with OddsJam at bookies in the US can mean thousands of dollars of profits in a single month.
3. OddsJam: Matched betting and Middle bets
I will cover both of these strategies here because they are not the most important part of OddsJam.
You can use odds comparison tools like OddsJam for completing the roll-over requirement for bookmaker bonus offers.

By covering both outcomes, one at a bookie with the bonus and one at another bookie, you are taking no risks while a part of the roll-over task is succeeded.
The Middle bet service at OddsJam displays betting opportunities that are almost arbitrage bets but on over/under or handicap markets. You can find betting opportunities when there is a slight line difference + an arbitrage opportunity.
Example: over 120.5 points on odds of +110 and under 122.5 points with odds of -110.
If they score 121 or 122 points, both outcomes are winners.

OddsJam Alternatives: Sites like OddsJam
OddsJam is putting in the most effort for being the number one arbitrage and value betting software in the US and Canada.
They are offering the most accurate odds and fastest scanner, but for a fairly high monthly fee.
RebelBetting, on the other hand, is scanning fewer betting sites from the US and Canada. They are offering an odds comparison tool for matched, value, and arbitrage betting software.
The monthly price tag is lower compared to OddsJam ($199). They don't have in-play arb software, but if you are a beginner, they are worth trying.
Based on my experience, RebelBetting is showing at least around 75%-85% of sure betting opportunities compared to OddsJam.
Do you need more info? Check my RebelBetting Review.
OddsJam bookmakers scanned
As I already mentioned, OddsJam is covering over 36 bookmakers that are available in the US, and some of them are also available for Canadian bettors.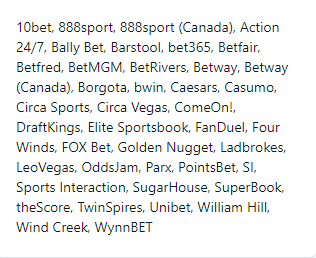 How to use OddsJam?
It would require a longer and complete guide to show how to use OddsJam. They have many interesting calculators, odds comparison tools, and betting software that requires time and a little practice to use properly.
Almost every tool can be used for different smart betting strategies. So, instead of presenting them one by one, here is what I give as a piece of advice.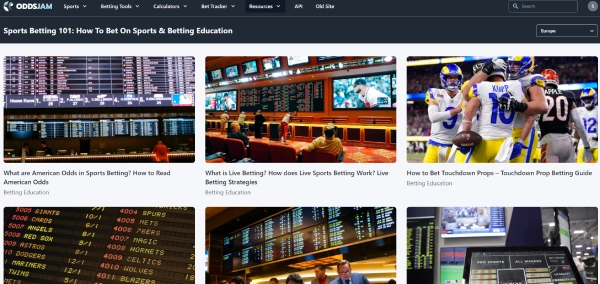 If you are planning to make guaranteed profits, open their knowledge base or blog and search for the keywords: matched betting or arbitrage betting.
I advise checking their articles about value betting for bettors who have higher risk tolerance. You can make significantly more by taking risks and not covering the other outcome of your bets.
How much is OddsJam? OddsJam Cost

1. OddsJam Arbitrage Plan Cost
A monthly subscription to the arbitrage plan at OddsJam will cost you $199 (the $99 is no longer available at the moment 07.16.2022). This will give you access to their pre-match sure bet scanner.
If you are not sure about opting in, their 7-day free trial is all you need. If you already have some idea of how sure betting works, opting for a monthly plan after the trial will be an obvious decision.
OddsJam Price reduction: promo code
Not available at the moment
I asked OddsJam to give me a chance in helping my audience. They gave me the promo code of SmartBets22. If you open an account by clicking on the button below and inserting this promo code, you will get a price reduction of 15% in your first 3 months.
You can recover the monthly plan cost in just 2-3 good sure bets.
2. OddsJam Industry Plan cost
The industry plan of OddsJam is for professional sports betting. This will include access to arbitrage and value betting as well. On the other hand, you will be able to use each of their services for pre-match betting.
The monthly fee for the Industry plan is $199, but with my promo code, you can get a price reduction of 15%.
The Industry Plan of OddsJam includes:
Arbitrage betting software
Value betting software
Access to offshore bookies like Pinnacle, BookMaker, Bovada, Bodog, 5Dimes, MyBookie, BetAnySports, BetUS, BetOnline, Betcris
Unlimited middle bets
Real-time email alerts (if you need them)
OddsJam Review – Conclusion
OddsJam is the most advanced arbitrage and positive EV betting software for US and Canadian bookmakers. The price of their arbitrage and industry plan represents the real value of this tool.
OddsJam is a legit betting software and is worth several times more than its monthly fee.
Relevant articles: