3 Best Arbitrage Betting Software in the USA [2023]
Arbitrage betting in the USA is getting more and more famous. Many bettors are looking for mathematical betting strategies to beat the bookmakers.
Sure betting with the help of arb finder services available in the USA can generate thousands of dollars of profits.
I have tested and used the following arbitrage bet finders focusing on or including bookmakers from the USA.
Are you in a hurry? The top arbitrage betting software in the USA: the affordable RebelBetting with a 14-day free trial and bettors with more experience OddsJam with a higher monthly fee of $199. Check my detailed RebelBetting review or OddsJam review for more information.
Many bookmakers from the US are offering insane bonuses, high maximum stakes, and great odds. These factors make it possible to earn a healthy profit with the software mentioned above.
Top 3 Arbitrage betting software in the USA
If you are looking for the best arbitrage betting software in the USA, you have three main possibilities.
#1. OddsJam – premium arbitrage betting software in the US
OddsJam is a reasonably new software/business in this industry. They started offering innovative betting solutions at the beginning of 2021.
If you are looking for a premium service with quality filters/tools for arbitrage betting in the US, OddsJam is an excellent solution.
Alex, the founder of OddsJam, has put a significant effort into presenting bookmakers' betting opportunities in the USA.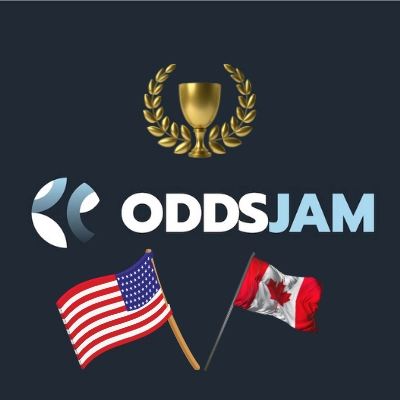 ---
Pros of OddsJam
They cover the most US betting sites (40+)
Decent filters
Fast-developing company with new tools and functionalities almost each month
With a single subscription you get access to each of their tools: arbitrage, value, matched betting software
Focuses on US bookmakers and customers
Pre-match and in-play arbitrage betting software is available
Hundreds of articles and guides about strategies and tutorials for each OddsJam tool
Customer-friendly, simple user interface
A 7-day free trial for each service
Cons of OddsJam
No daily or weekly subscription plan for pre-match scanners
It's not rare that OddsJam displays expired betting opportunities
Fairly expensive for many beginner bettors (however, the subscription includes both arbitrage and value betting services)

OddsJam properties for arbitrage betting in the US
US bookmakers scanned by OddsJam
OddsJam, DraftKings, BetMGM, William Hill, FOX Bet, FanDuel, WynnBET, PointsBet, Caesars, Barstool, Borgota, 888sport, Unibet, BetRivers, Wind Creek, Parx, SugarHouse, Four Winds, TwinSpires, Bwin, Betfred, Betfair, Betway (Canada), Casumo, 10Bet, Elite Sportsbook, Bally Bet, theScore, Ladbrokes, Circa, Golden Nugget, Sports Illustrated, SuperBook
Subscription Plans
Industry Plan: $199 – gives access to both for sure betting software and value bet finder as well
Why use OddsJam for arbitrage betting in the US?
Covering the most essential bookmakers from the US
They offer a wide variety of sports and markets
You can get arbitrage bets from Pre-match and In-play events too
With only 2-3 good arbitrage bets, you can recover the monthly subscription price
Do you need more info? Check my detailed OddsJam review.
#2. BetBurger – alternative arbitrage betting software for the USA
I have used BetBurger for many years daily. At present, I'm subscribing to their services 1-2 times a month.
I'm mentioning BetBurger only because they are scanning some bookmakers available in the USA. But this service is focusing on bettors from Europe and Asia.

---
Pros of BetBurger
Arb finder with the most US bookmakers covered after OddsJam (15+)
Each relevant sport covered
A fast refresh rate on new sure betting opportunities (significantly faster than OddsJam)
Advanced filters that help you personalize their arbitrage betting software: delay in arbs, min-max odds, min-max arb percentage, etc.
Cross market scanner (example: combines scanning between Asian and European handicaps)
Skilled customer service and developer team
The most comprehensive in-play arbitrage betting software on the market
You can stop/freeze your subscription for some days when not working
Cons of BetBurger
Not covering each significant betting site in the USA
Might seem expensive for beginners (you might try their weekly subscription instead)
A fast scanner that might scare new bettors when sure bets appear and disappear in seconds
US bookies scanned by BetBurger
BetBurger is scanning the following bookmakers from the US: Draftkings, William Hill, Fox bet, Fanduel, 888sport, Unibet, Bwin, Betfred, Betfair, Betway, Casumo, 10bet, Ladbrokes.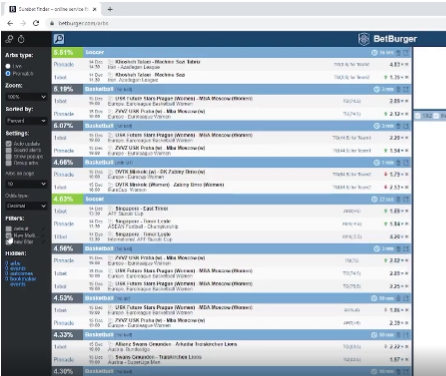 The betting industry in the US is getting bigger and bigger as more states are opening their gates for online gambling operators.
This means that BetBurger, as the industry-leading software, will scan even more bookies from the US.
Monthly Subscription Price:
1. Pre-match: 129 euros
2. Live: 229 euros
3. Pre-match/Live: 295 euros
Before opting for a monthly subscription, I would advise trying them with their 1 day or 1-week subscription plans.
Why should you try BetBurger for arbitrage betting from the US?
BetBurger is not scanning as many US bookies as their other two competitors. But if you have access to ones available in their software, you can't beat their services.
With many years of experience behind them, they are offering an insanely fast scanner.
Why BetBurger for sure betting in the US?
Scanning sports events every 15 sec Pre-match and around 3-4 sec In-play
Many US bookies covered arbitrage and value betting as well
Most betting markets and sports scanned: you pick between 41 sports and many markets
#3. RebelBetting – upcoming arbitrage betting software for the USA
RebelBetting always focused on offering services that can satisfy the new trends and markets as well. It was not surprising when I got the news about their plan of scanning more betting sites and offering arbitrage betting software for US bettors.
Their main market remained the bookies from Europe, however, the 13+ betting sites covered from the USA also opens a new market and an opportunity for US bettors to try a new tool.
Their simple user interface and beginner guides will help each beginner sure bettor to take the first step towards being successful in sports betting.
Price: €89/€179 per month Starter/Pro subscription
Bookies: 60+
US betting sites: 13+
US bookies at RebelBetting: BetOnline, BetMGM, Bodog, Bovada, Barstool, Fanduel, Ceasars (WilliamHill), Foxbet, Draftkings, BetAnySports, Bet365, Unibet, Everygame (Intertops)
Sports: 10+
Sure bet finders are one of the most important tools for successful and profitable betting, so by focusing on arbitrage betting in the USA as well, RebelBetting can get more attention and new valuable clients.

---
Pros of RebelBetting
Premium arbitrage betting software for Pre-match only
You can get full access to their services for 14 days for Free
You can test this arbitrage betting software for free without risking your money
They cover the most important US bookies
Simple, straightforward interface and calculator
The opportunity of logging your bets -> you will have a detailed betting history
Cons of RebelBetting
They offer only pre-match scanning
Not enough US bookies are covered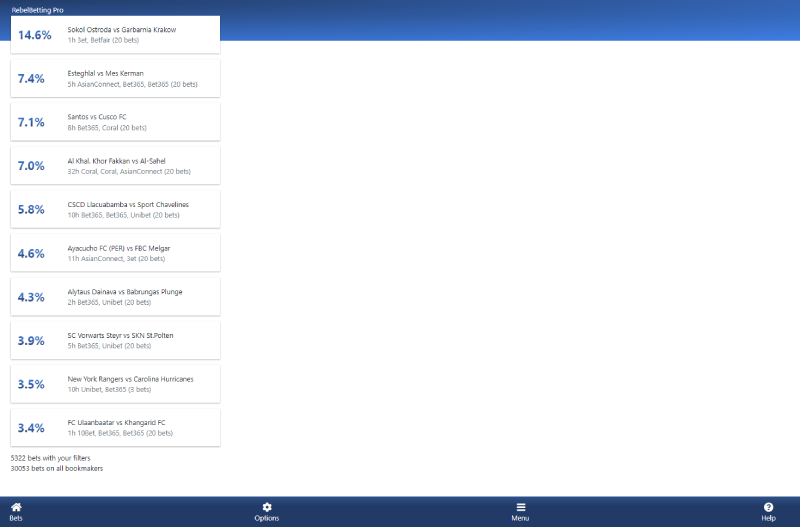 My experience with RebelBetting
I always had a positive experience with RebelBetting, they are professional towards their service and clients as well
The customer service at RebelBetting always solved my issues as fast as possible
When I was using them, the majority of arbitrage bets were displayed accurately which saved me a lot of time (they also make mistakes like each software)
Need more info? Check my RebelBetting Review.
#4. OddsBoom: affordable arbitrage betting in the USA
---
!!!Attention!!!
OddsBoom was bought out by OddsJam. The information below is no longer valid. If you need software for arbitrage, value, or matched betting visit my OddsJam review.
---
I've been testing OddsBoom for a while, and I think they are the best tool that every smart bettor from the US should try.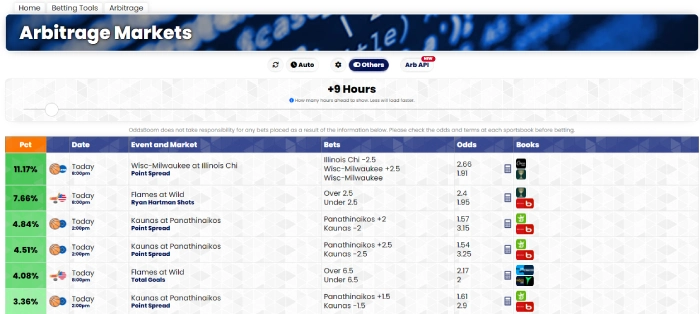 OddsBoom is an odds comparison site that focuses on bookies from the USA and Canada. They include over 100 bookies available in either of these countries or essential for intelligent betting.
This odds comparison site offers many tools for different betting techniques. Their primary product compares the odds between bookies and displays the highest ones for each sport or betting market.
Properties of OddsBoom
OddsBoom is covering around 100 bookmakers many of them available for bettors from the US (over 70). This number is constantly changing due to software developments.
By using OddsBoom, you will be able to:
#1. Start Arbitrage betting in the US:
they are scanning a wide variety of sports and betting markets. They offer many filters that allow you to set up the service based on your needs. It can display only the sports, bookies, markets, and profit % you want to follow.
#2. Bonus Cruncher
this tool is an advanced odds comparison service for matched betting. You can complete bonus offer roll-over requirements with the help of OddsBoom. They are displaying matched betting opportunities between the selected US bookies.
#3. Low Holds
It's an excellent tool for each bettor who wants to spot odds where the bookies have a very low-profit margin. Often they are offering betting markets with a 0% profit margin. These odds are available as a promotion on popular/essential sports events.
Spotting these low-hold opportunities, you can complete bonus offer roll-over requirements. It is a light version of the Bonus Cruncher tool with slightly fewer filter options.
OddsBoom is also scanning some international bookmakers like Pinnacle. It's important to mention that Pinnacle is the sharpest bookmaker available at the moment, and they offer the most accurate betting lines and odds in the betting industry.
They are an essential tool for value, arbitrage, and matched betting strategies.
Most bettors who want to spot odds with a positive EV compare their local bookmaker to Pinnacle to find overpriced markets.
OddsBoom pricing
OddsBoom is offering free access to most of its tools. This free account has limited access to the most critical services like arbitrage betting.
You will see some sure bets, but you need to opt-in for their Plus membership to get 100% access to arbitrage bets from the US bookies.
I've been analyzing the smart betting industry in the USA for a while, and OddsBoom is offering the most affordable yet quality service.
1-day subscription – $5
1 month Plus Membership – only $15
1 Year Plus Membership – $150 (you save $30)
If you need more information, you can check my detailed OddsJam Review.
How is arbitrage betting in the USA possible?
Unfortunately, not every state in the US is allowing online gambling activities. In some states, the regulations are already accepted, but they are not applied now.
So, bettors from these states can't fully profit from the betting strategies mentioned above.
For others, picking the right bookmakers and software for sure betting is not an easy decision.
The easiest way of finding out if arbitrage betting is worth trying in your state or not is by opening a free account at OddsBoom.
They will display each bookmaker available in your state. If you are still not sure if they are enough for you or not, opt-in for a one-day Plus Membership and check how many sure bets they display.
It is worth trying if they display at least 2-5 a day (you can ask for notifications).
Value betting in the USA
I genuinely think that value betting is superior to arbitrage betting. I have used each betting strategy for football and other sports too.
But based on my experience with value betting:
You can use lower stakes
The bookies tend to limit your accounts later
You can make 50%-60% more in the long run
The only real downside of value betting is that you have to face losing streaks too. This strategy is based on finding outcomes that are overpriced.
Every time you place a bet on higher odds than the possibility of the outcome, you are beating the bookmakers. This mathematical betting strategy is proven to be the most profitable in the long run.
With the Industry plan of OddsJam, you can get access to each of their services. You will be able to place arbitrage bets and value bets too.
How to start arbitrage betting in the USA?
#1. Spot the available bookies in your state
As I already mentioned, OddsBoom is an excellent software to find out which bookies are available in your state. Many arbitrage bettors in the US try to use offshore bookmakers like Bovada, Betonline, etc.
They offer very high odds and a wide variety of markets with great welcome bonuses. I'm not saying you should try them, but I wanted to mention how others widen their opportunities.
#2. Focus on bookies with many arbs
Some bookies like BetMGM are making many mistakes. These overpriced odds are creating many sure bets and a lot of profits for smart bettors.
Other bookies have a significant profit margin and fewer betting markets to avoid too many mistakes and intelligent bettors.
Every time I looked for new opportunities and bookmakers, I started using the ones with the surest bets.
It will save you a lot of money if you stop wasting your time on bookies with low odds and only a few arbs.
#3. Use clever techniques while arbitrage betting in the US
Many beginner sure bettors quickly become greedy. Looking for arbitrage bets with significant returns and placing bets with big stakes can offer insane profits.
But these winning won't last too long. Each bookmaker has in-built sports betting algorithms that spots obvious smart betting activities. No matter how much profit a bookie makes in a year, they will limit suspicious accounts.
Most bookmakers do not welcome arbitrage bettors.
If you want to practice arbitrage betting in the US, you should follow these steps:
Don't place bets with stakes over 70% of the max stake
Try rounding up your stakes: instead of $327, use $330
Avoid more minor leagues and tournaments: on soccer, I use only League 1, on tennis WTA or ATP, etc.
Don't place more bets on the same market
Stop using VPN
Free arbitrage betting software in the USA
The betting services mentioned above offer limited but free access to their tools. With these, you can get an idea of how they work and which might be the best for your needs.
1. OddsBoom: you can spot the highest odds on each betting market
2. OddsJam: they offer a 7-day free trial for each service. You need to add your bank card, but you can cancel the subscription at any time.
3. BetBurger offers free access to its services for unlimited time. But the maximum profit on sure bets is limited to 1% and on value bets up to 2%.
Is arbitrage betting possible in the USA?
Arbitrage betting is possible and very profitable in each state in the USA if you have access to betting sites. Arbitrage betting in the USA will is and will be the best method to make money from sports betting with a very small and almost not existing risk.
There are many big betting sites such as BetMGM, Betonline, FanDuel, etc. that have excellent betting offers and are focused on US bettors. Each betting site is making mistakes and offers overpriced odds.
These discrepancies between bookies will create sure bets and make arbitrage betting possible in the USA.
How to do arbitrage betting in the USA?
Check if online sports betting is legalized in your state
Make a list of the available betting sites that you can use for arbitrage betting (have a license in your state)
Have a decent starting capital only for arbitrage betting purposes (I would say at least $1500-$2000)
Pick the most appropriate

sure betting software

in the USA (that corresponds to your skill level and goals)
Start sure betting at bookies with smaller bonus offers so you can take advantage of the whole offer
Avoid arbitrage bets on smaller leagues, and focus on bigger sports events only so you can delay getting your betting account limited
Conclusion on the best arbitrage betting software in the USA
At the moment the best arbitrage betting software in the USA are BetBurger and OddsJam. OddsJam is scanning the most bookies and has a monthly fee of only $199. At BetBurger, you can access fewer US bookies as I already mentioned but with faster better-developed software.
You might also want to check my article about how to find arbitrage betting opportunities or my in-depth article about the best paid and free arbitrage bet finder.
FAQ
Is arbitrage betting legal in the US?
Arbitrage betting is legal in the US and in every country where sports betting itself is legal. These arbitrage opportunities are simple discrepancies between betting sites. Sure bettors can place simultaneously at more bookmakers without breaking laws.
Can I do arbitrage betting in the USA?
Sports betting is not legalized in each state in the US. But in the majority of states, you can practice arbitrage betting between many US bookies. Arbitrage betting services such as OddsJam can display arbitrage bets fairly accurately and fast. Software like this can make arbitrage betting in the US possible and fairly easy to try.