5 tips on How to Find Arbitrage Betting Opportunities? (2023)
Finding arbitrage betting opportunities in sports betting is getting more accessible because of much affordable software.
It's not the least important factor that more forums, videos, and blogs cover topics on how to spot arbitrage bets.
In this article, I want to share my experience with the best methods and software I used in the past years.
Since I started arbitrage betting actively (back in 2014), I spotted five different methods to arbitrage betting opportunities in sports betting:
Using a

free arbitrage bet finder

Opting in for a premium

sure bets finder

service
Finding arbitrage bets manually
Using odds comparison sites
Developing/having access to self-made arbitrage finder bots (scripts)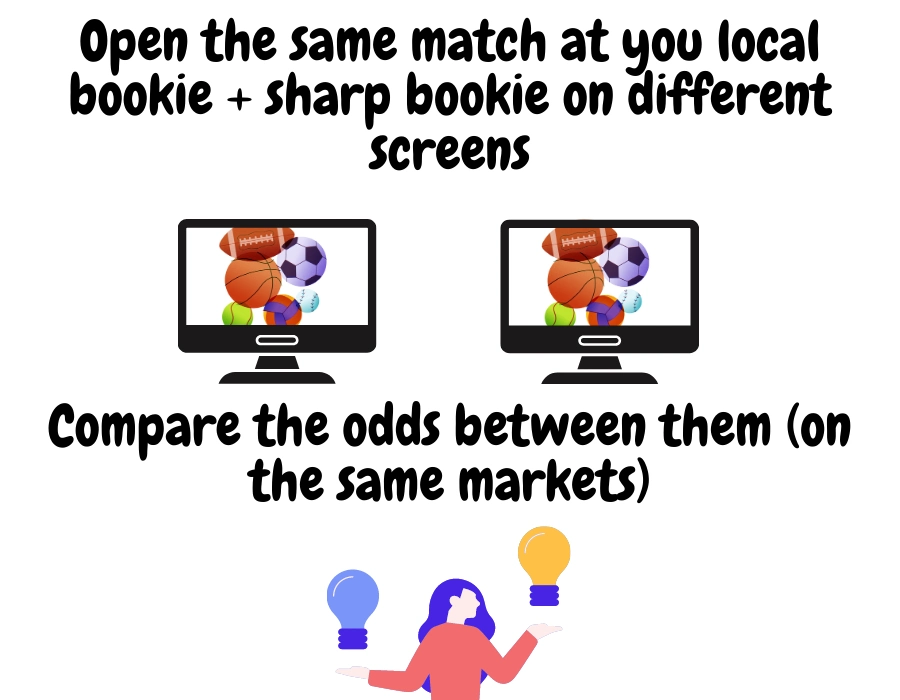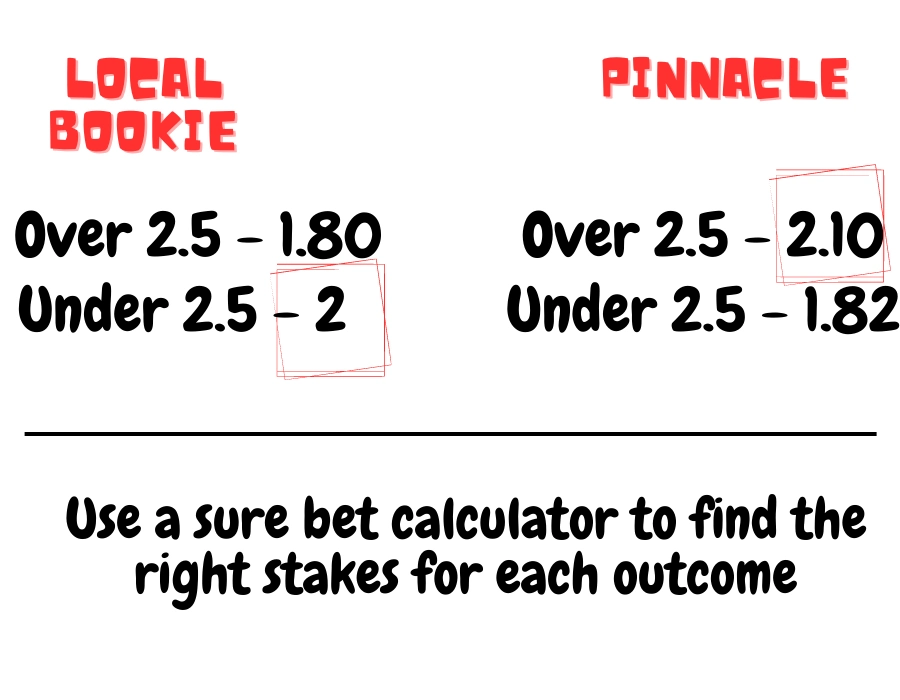 How do you find arbitrage betting opportunities in sports betting?
#1. Using a free arbitrage bet finder
The most accessible and affordable way of spotting arbitrage betting opportunities always will be the free version of sure bet finders.
Based on my experience, most beginners don't believe that making big and guaranteed profits with sure betting is possible.
Most bettors think that opting in for a paying service is not worth it or too risky.
Others think that finding arbitrage betting opportunities with free software is enough. On the other hand, some intelligent bettors don't have the option and funds to pay for a premium service that might cost only $10-$15 a month.
For arbitrage betting in the USA, I recommend using OddsJam. They are offering a quality service, and some part of it is even free. Check my OddsJam Review for more information.
Why use a free sure bet finder to find arbitrage opportunities?
Does not need additional funds to start earning from sure betting
You can try arbing with a lower starting capital
Not risking by opting in for a service that has a bad scanner
Great for beginner sure bettors who are focusing on bonus offers only
You can spot bookies for free that make a lot of mistakes
Downsides of finding arbitrage bets with a free software
Some premium services offer a free scanner but with a serious limitation
Free services display arbitrage opportunities with a delay: this can be between 1 min to 15 min
The maximum profit % is limited to around 1% at most scanners
You will find only a few opportunities because of these delays and limitations
More bettors are using free scanners, which can lead to getting your account flagged faster
Most arbs will be on lower leagues, and this also means a faster limitation of your maximum stakes
You will invest a lot of time for a low return instead of paying a small fee for even 10-15 times more profit
If you want to find arbitrage betting opportunities with free sure bet finders, below is my short list to choose the best for your need.
#2.Finding arbitrage bets with paid sure bet finder service
Based on my experience, it is pretty rare to find a working and valuable arb scanner for 100% free. Each of them will have some kind of limitation or deficiency.
Opting in for a paid arbitrage opportunity finder will boost not only your income but can decrease the amount of time you need to work for it.
Advantages of finding arbitrage bets with paid scanners
The software will apply no delay
The arbs will appear faster
You will have the chance to spot arbitrage opportunities before they can disappear
Most paid software doesn't have a maximum profit % limitation
If you can spot arbs faster, you can use your funds more effectively, which will lead to more profits and fewer hours at the front of the PC
You can further delay getting your accounts limited if you are placing bets on more significant leagues with the help of a paid service
With a paid service, you will make several times more profit (including even the cost of the service)
Possible downsides of a paid service
Your subscription would end no matter if you used the software or not
Many arbitrage finders don't have a beginner-friendly payment plan
If you get limited at all of your accounts, you can't refund the remaining time at these services (only freeze your subscription for some weeks)
You might feel the urge to work each day if you have a paid subscription. It can easily lead to becoming a workaholic (personal experience)
Opting for a paid service to find more arbitrage betting opportunities does not necessarily mean that the more you pay, the more arbs you get. I've used over ten services during the past years, and I was surprised many times that software of 30 euros a month can offer 80% of arbs that a 150 euros/month scanner.
#3. Finding arbitrage bets manually
Many bettors are trying to find arbitrage betting opportunities manually. Opening your bookmakers beside each other and checking markets one by one is the most complicated way of spotting sure bets.
Ten years ago, when there was only a few arbitrage finder, the bookies were slower too. Only a handful of bettors could find arbitrage bets, which were hard to spot.
How to find arbitrage betting opportunities manually
1. The first step is to spot the bookmakers that are legally operating in your country
2. Open a free sure bet finder to figure out which bookmakers are slow with many arbs
3. Try finding markets that are pretty popular but not scanned by each software
4. For pre-match, try the best sports for arbitrage betting like football or tennis (bigger tournaments), so you can delay account limitations
5. Betting in-play offers more sure bets on faster sports like tennis, basketball, hockey
6. Split your PC screen (hopefully a big wide one) in two and open the same match at different bookies
7. Start comparing odds on smaller markets like a half-time corner, goal, quarter totals, etc.
8. If you spot significant odds differences, you can start calculating the real value of that opportunity by using an arbitrage betting calculator
9. Many sure bet finder sites are offering free calculator
Almost half of my arbitrage and value betting activity was executed manually in the last few years. Most sure bet finders are not able to scan each betting market.
The majority of them focus on pre-match arbs and main football markets like handicaps, corners, winners, and totals.
This situation opens a way to find arbitrage betting opportunities on smaller markets that are still viable options. For example, only a few software focuses on smaller tennis or basketball markets.
If you try to find arbitrage bets on these, you can succeed even without software.
How to find live arbitrage betting opportunities manually?
1. Picking the right bookmaker with a wide variety of in-play markets is a must for success
2. You need to start focusing on sports where the odds are moving fast. This can happen on tennis, basketball, hockey, volleyball, and some others too
3. To find arbitrage bets manually, you also need to use markets with fast odds moving: next game, set handicap, total points (tennis), quarter handicap, winner, total points (basketball)
4. You need deep knowledge about that sport and the player to spot which outcome has the wrong odds. Finding live arbitrage opportunities can be challenging, but placing arbitrage bets on them without too fast odds dropping is even more complicated. You need to know which outcome is overpriced, so you can place your first bet on it to avoid the odds dropping.
5. I would advise using bookmakers with a low-profit margin and a wide variety of betting markets on tennis and basketball. Each of them offers tens, sometimes hundreds, of live arbitrage opportunities on a single match.
#4. Using odds comparison sites
Odds comparison sites are essential for each bettor who wants to beat the bookmakers in the long run.
These services focus on comparing the odds of bookies for the same match/market and displaying the bookies with the highest odds.
The difference between a sure bet finder and an odds comparison tool is that you can't find a particular match with arbitrage software.
Most users of these comparison sites are simple bettors who understand the importance of betting on the highest odds. But in most cases, they are not interested in arbitrage betting or similar mathematical betting strategies.
How to find arbitrage bets at an odds comparison site?
You have two main possibilities:
Manually compare the outcomes with the highest odds to other bookies like Pinnacle (

arbitrage friendly bookmaker

)
Some of this software offers the possibility to compare the odds between bookies (sure betting tools)
A great and affordable odds comparison site for arbitrage betting in the USA is OddsJam. They offer services like odds comparison, bonus cruncher (for matched betting), and even an arbitrage betting scanner.
#5. Developing/having access to self-made arbitrage finder software
During my betting activity, I had the chance to speak with many talented software developers. Some of them made decent software that can scan bookmakers.
These scripts can display sure bet opportunities with high returns for 100% free. But before you start looking for similar software, I would like to share my experience.
Advantages:
If you are a developer, it is 100% free
They are focusing on the bookies/markets you need
They can be further developed to place arbitrage bets automatically
Downsides:
The bookies are often changing the way they display odds
Homemade software is often crashing
Most of them are not reliable for a long time
Requires knowledge about betting and programming
It's time-consuming to develop/use a similar service
Conclusion: how to find arbitrage opportunities
Using free sure bet scanners is the most affordable and easy method. But opting for a paid arb finder is offering several times more value.
Arbitrage betting is one of the best strategies for betting without losing. It is the surest way to never lose a football bet. The methods mentioned above are the best ways to find sure betting opportunities.
Check my country-specific articles:
I also have an article with many arbitrage betting tips. They can help you in sure betting for a longer time.
FAQ
How to find arbitrage bets?
The best method for finding bets is using sure bet finders. You can pick between free arbitrage software with some limitations in functionality and a paid service for higher returns. Finding arbitrage bets manually is still a viable option.
How to find arbitrage betting opportunities?
The best ways to find arbitrage betting opportunities depend on your experience and capital. There are four main methods to sport arbitrage opportunities:
1. using a free software
2. opting in for a paid service
3. finding arbs manually
4. developing a sure bet scanner