6 Best Arbitrage or Arb-Friendly Bookmakers [2023]
After getting some of your betting accounts limited for sure betting, the first things you start looking for are techniques for avoiding limitations and arbitrage-friendly bookmakers.
I have also used many bookmakers for matched, arbitrage, and value betting. This article will share my experience with some arbitrage friendly bookmakers that are worth a try.
Top Arbitrage friendly bookmakers
I have used many bookmakers for covering my arbitrage bets. Some of them are somewhat acceptable for finding sure bets between them.
#1. Betfair
Betfair is the most trustworthy betting exchange, a base bookmaker for many arbitrage bettors.
The majority of bettors reading this article already know them. But starting a list about the best arbitrage friendly bookmakers without mentioning Betfair would be a big mistake.
Betfair is available in many countries. They have been in this betting industry for many years, which helped them build up many active bettors.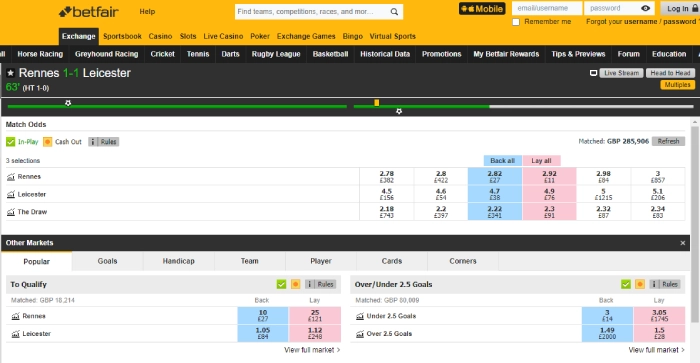 Betfair has two platforms, one of them being the exchange and the other a "normal" betting site.
The exchange is the only sustainable way of using their services for arbitrage bettors. If you start arbitrage betting on their other platform, you are directly influencing their profitability, leading to account limitations.
Most Betfair accounts will have a commission of 5% after each winning bet.
Each of these betting sites are covered by most arbitrage betting software.
#2. Smarkets
Smarkets is taking an essential role in the betting activity of many arbitrage and matched bettors. They are also a betting exchange, so an arbitrage friendly bookmaker.
Some markets are not so covered (you don't have enough liquidity) compared to Betfair, but their commission of 2% is making them an excellent choice for arbing.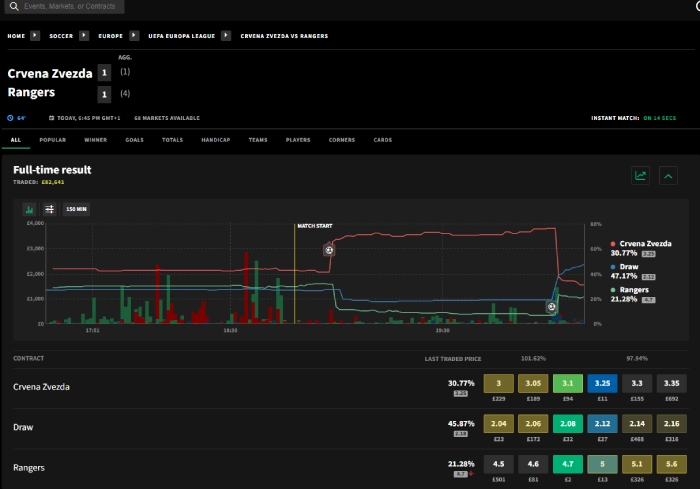 They are great arbitrage friendly bookmakers for simple bettors without suspicious activity.
They also have great welcome offers like claiming no commission in the first 60 days. This will allow you to use a betting site that offers odds closest to the real probability of winning it.
#3. Pinnacle
Pinnacle is one of the best options for arbitrage bettors to cover their sure bets. They are the top sharp arbitrage friendly bookmaker with decently high maximum stakes and acceptable betting markets.
You can find bookmakers that have 10 times more betting markets, but Pinnacle is outstanding with their arbitrage bettors' welcomed business model.
They offer odds with a very low-profit margin, often having a house edge close to 1.5%.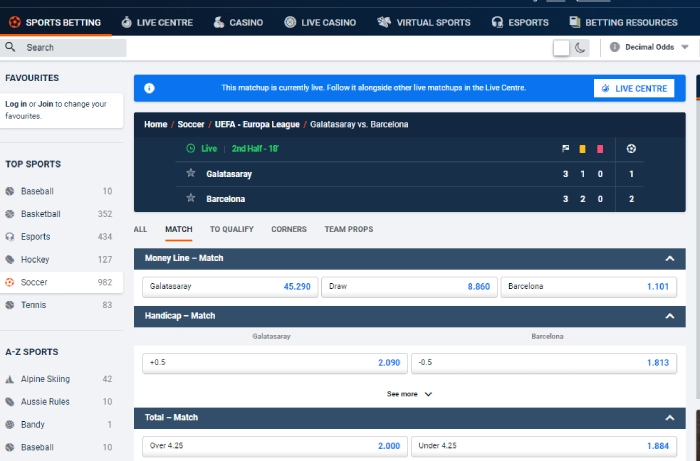 These odds create arbitrage bets with almost every bookmaker. The best thing about Pinnacle being the best bookmaker for arbitrage betting is their high maximum stakes.
If you are in-play betting, you will have even higher limits. Most arbitrage bettors don't place sure bets that would require higher limits than at Pinnacle.
They cover the majority of important sports and markets for mathematical betting strategies such as arbitrage betting.
Advantages
Best arbitrage friendly bookmaker for hedging arbs and matched bets
Arbitrage betting accounts and stakes are not limited
Very low house edge, which results in high odds
High maximum stakes in-play and pre-match as well
Each sure bet scanner includes Pinnacle
Downside
They don't have a wide variety of betting markets
#4. Sbobet
Sbobet is similar to Pinnacle. It is an Asian bookmaker that is somewhat arbitrage friendly or at least compared to many soft bookmakers.
They have very low profit margins on basketball and on the majority of handicap markets (since they are Asian bookies).
Unfortunately, Sbobet is not the best arbitrage friendly bookmaker because of its lower maximum stakes.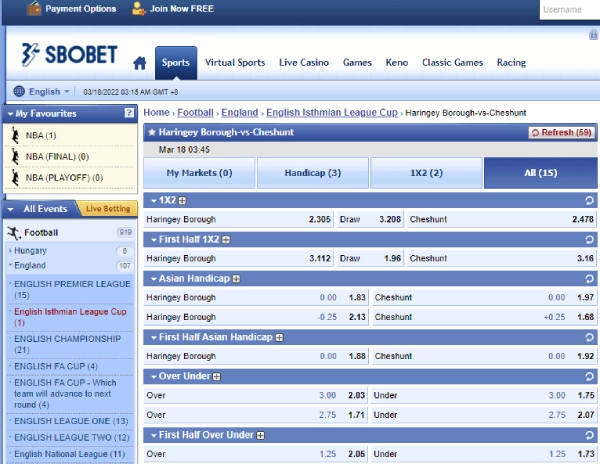 Their deposit, withdrawal, and verification processes are easy and fast. The betting lines and odds are very close to the ones at Pinnacle, so sure bets between them are rare.
Although, Sbobet is a great arbitrage friendly bookie for covering bets if you don't want to use exchanges or Pinnacle.
#5. BetInAsia
BetInAsia is one of the industry-leading betting agents which is also arbitrage friendly.
They are operating as a third party between bettors and the following and many arbitrage friendly bookmakers.
The above-mentioned bookies are the greatest arbitrage friendly betting sites, and with the help of BetInAsia, you can place bets on their odds on a single platform.
The biggest advantage of using betting agents such as BetInAsia is not only having access to bookies that are not available in some countries but not being limited and having lower commissions at exchanges.
By using this arb friendly "betting site," you can save a lot of time and effort. You won't need to deposit/withdraw from many bookies, and you will also have access to the highest odds.
A big advantage of these services will be the higher maximum stakes and the bookies that are covered by most sports betting software.
Advantages
Getting access to odds from: Pinnacle, Sbobet, Singbet, BetISN, MAXbet, 18bet, RedZone, Jabet, Betfair, Matchbook, Betdaq
Minimum stakes as low as €5
Deposit BONUS of 25% or lifetime 0.1% cashback on your bets on BLACK
Free deposits every time (not credit cards (3%)
No commission applied to first withdrawal in the current month
Low commission at exchanges
Downside
Not available in the following countries: US, UK, Sweden, France, Turkey, and Singapore
#6. AsianConnect88
They are also an arbitrage friendly betting agent with a slightly more limited number of bookmakers.
Advantages
The following arbitrage friendly bookmakers are covered: PS3838 (Pinnacle), SBOBet, Maxbet, Singbet, BETISN, Matchbook
Low minimum deposit (€10)
Welcome offer of 20% up to €400
Deposits are free
Your first withdrawal in the current month is free
Sports covered: 13
Lower commission at exchanges: 1.25% on winning and losing bets too
Downside
Restricted countries: USA, France, Singapore
Types of arbitrage friendly bookmakers
1. Exchanges as arb friendly bookies
Exchanges with a low commission and a fair number of bettors are one of the best arbitrage friendly bookmakers.
The betting system against other bettors allows bookies to make profits no matter the outcome, and their earnings are influenced by the betting volume only.
This is why betting exchanges are welcoming winners, and they are arbitrage friendly bookmakers as well.
Most arbitrage bettors have considerable amounts rolled over. They are helping average bettors to have their bets backed, attracting even more bettors.
2. Sharp bookmakers – best arbitrage friendly bookmakers
Sharp bookmakers are the best options of every arbitrage and matched bettors. Arbitrage friendly bookmakers such as Pinnacle are helping smart bettors focus on their betting activity without worrying about getting limited at each bookmaker.
Everyone looking for the best bookmakers for proven football betting strategies such as arbitrage betting sooner or later will end up using sharp bookmakers.
These betting sites offer very accurate odds thankes to smart bettors who are influencing betting lines and odds that are off or overpriced.
To offer these fairly sharp odds, they need arbitrage bettors, which will result in higher maximum stakes and accounts that won't get limited even after arbitrage betting.
3. Betting Agents
Betting agents or, in other names, betting brokers combine the categories mentioned above. These websites are the third party between one bettor and many bookmakers.
They offer access to odds to many somewhat arbitrage friendly bookmakers on a single platform.
Bettors looking for the best bookmakers for arbitrage betting can benefit the most from the service of betting brokers. You can bet on the highest odds from several bookies without needing to open several accounts and keep money at each of them.
This system helps sure betting not only because they are not limiting average arbitrage bettors, but you can have a smaller starting capital.
Many betting sites these betting agents cover are the best arbitrage friendly bookmakers. But if you need to use more than one, you need a more considerable starting capital, and waiting for withdrawals will be your daily activity.
I experienced a sudden jump in the effectiveness of my daily routine after I started using betting agents.
How to pick the best arbitrage friendly bookmakers?
Based on my experience choosing a bookmaker that won't limit your sure betting activity is not an easy task for everyone.
1. Arb friendly bookie legal in your country
Most Asian and sharp bookmakers are not available in many countries. Even European countries where sports betting is legal with many bookies lack some Asian bookmakers.
For example, Pinnacle, the best of this list, is not available in Germany, the UK, and many other countries where arbitrage betting is popular.
The last thing you want to experience is getting fined by your government for using a betting site without a license.
For this scenario, the best solution is to use betting agents.
2. Trustworthy bookmakers for arbitrage betting
Bookies mentioned in this article are trustworthy, and they will pay you out if you haven't practiced anything suspicious.
I also want to advise that most bookmakers are regulated and forced to verify accounts that have deposits with too big sums in a short period.
Even arbitrage friendly bookmakers such as Pinnacle can request documents about your source of funds. They want to avoid giving access to bettors who use their services for money laundering.
3. Maximum stakes and odds
While exchanges are great betting platforms for arbitrage betting, in most markets, the liquidity (maximum stakes) is fairly limited.
This fact does not have any connection with the bookie, but in many cases, the bettors are not offering higher stakes.
You can try Lay-ing bets with higher stakes, but in most cases, these won't get matched for 100% of their value.
Maximum stakes at the sharp bookmaker are limited by the site, but in most cases, they match the needs of sure bettors.
If you are looking for the highest odds, each above-mentioned arbitrage friendly bookmaker is great. By having a low house edge, they are able to have high odds.
Conclusion: Best arbitrage friendly bookmakers
Asian betting sites such as Pinnacle or Sbobet are great arb friendly bookies. Exchanges such as Betfair and Smarkets are offering high odds without the risk of getting your account limited.
Betting agents are the perfect solution for sure betting; they are combining both arbitrage friendly bookmakers and exchanges on a single and simple platform.
Other articles that might be interesting for you:
I also have an article with many arbitrage betting tips. They can help you in sure betting for a longer time.
FAQ
Best arbitrage friendly bookmakers?
Sharp bookmakers, betting exchanges, and betting agents such as BetInAsia are the bets arbitrage friendly bookmakers.
Which are the best bookmakers for arbitrage betting?
The best sharp bookmakers for arbitrage betting are Pinnacle, Betfair and some trustworthy Asian betting sites.