If you are looking for the best value betting software or as many bettors call it positive EV bets finder, you are at the right place.
I have uses many of these services during my activity for the past 8+ years of betting. Some of these sites offer arb finders and value bet scanners as well.
There are some big players in this industry with bulletproof excellent value betting software like BetBurger or RebelBetting.
Below you will find a short review, of the advantages and downsides of each value betting service I used.
Best Value Betting Software – Top value bet finders
Below you will find a list of the top value bet finder services for pre-match/in-play betting.
1. BetBurger – Pre-match value betting software
BetBurger is offering the most complex, yet easy-to-use value bet finder. They are covering the widest range of bookmakers, sports, and betting markets.
I have used their pre-match and in-play services for many years. Despite their mistakes, wrong arbs, and bugs, they have the most comprehensive tool.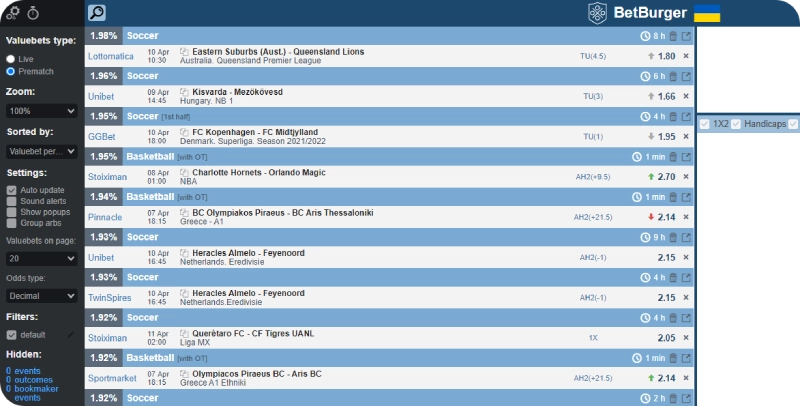 Advantages:
They cover over 300 bookies together with base betting sites + their clone sites
One of the fastest scanners (fast refresh rate of value betting opportunities)
Value bets from over 40 different sports and many betting markets
I like the straightforward filters
Opportunity for freezing your account in case you can't place bets for some days
Free value bets with a profit of up to 2%
Subscription plans for short periods (1 day, 1 week)
Downsides:
Sometimes they display wrong arbs (at weekends), but if you report them, BetBurger will start focusing on these issues (if they are a major problem)
Premium, high prices for a quality service. You need some experience to fully benefit from their services
My experience:
I've made thousands of euros with the help of BetBurger. Their Pre-match value betting service is one of the most important software for thousands of bettors. In 99% of cases, I was satisfied with the value betting software of BetBurger.
Price:
4.99€/day
24.99€/week
79.99€/month
2. BetBurger – In-play value bet finder
BetBurger is offering the best in-play value betting software at the moment. I made most of my profits with value betting either with the help of their software or by finding these opportunities manually.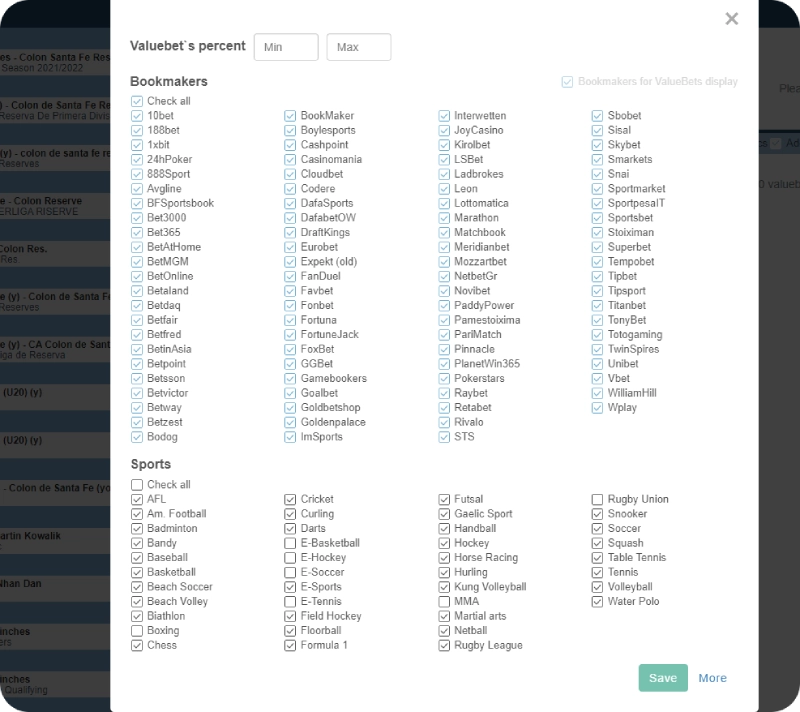 Advantages:
Fastest in-play scanner
Covers the most bookmakers
Your account will last longer (bookies are less likely to spot smart betting activities on in-play events)
Spotting more value bets compared to pre-match and other competitors
Same filter section as at pre-match value betting
Many value bets, because the majority of bookies offer more markets when the events are in-play
Downsides:
The value bets can disappear from a second to another
Requires more experience
A fairly high subscription fee, but it can generate insane profits in the right hand
My experience:
In-play value betting with BetBurger or in general requires someone with experience in arbing/value betting.
This tool has a very fast scanner which will help you spot betting opportunities right in the first moment. But these can disappear before you could even open the bet slip.
Fast bettors can make insane profits with the help of the in-play value betting software of BetBurger.
Price:
8.99€/day
39.99€/week
149.99€/month
3. RebelBetting Value betting software
If you are looking for a pre-match value betting software, choosing between BetBurger and RebelBetting is not an easy task.
RebelBetting has a starter pack/plan for €79 which benefits beginner bettors. This plan is not the only reason why each bettor should check this site.
They are offering a free trial period of 14 days for new customers. During this time you can make at least 3-4 times more than the fee for the starter subscription plan.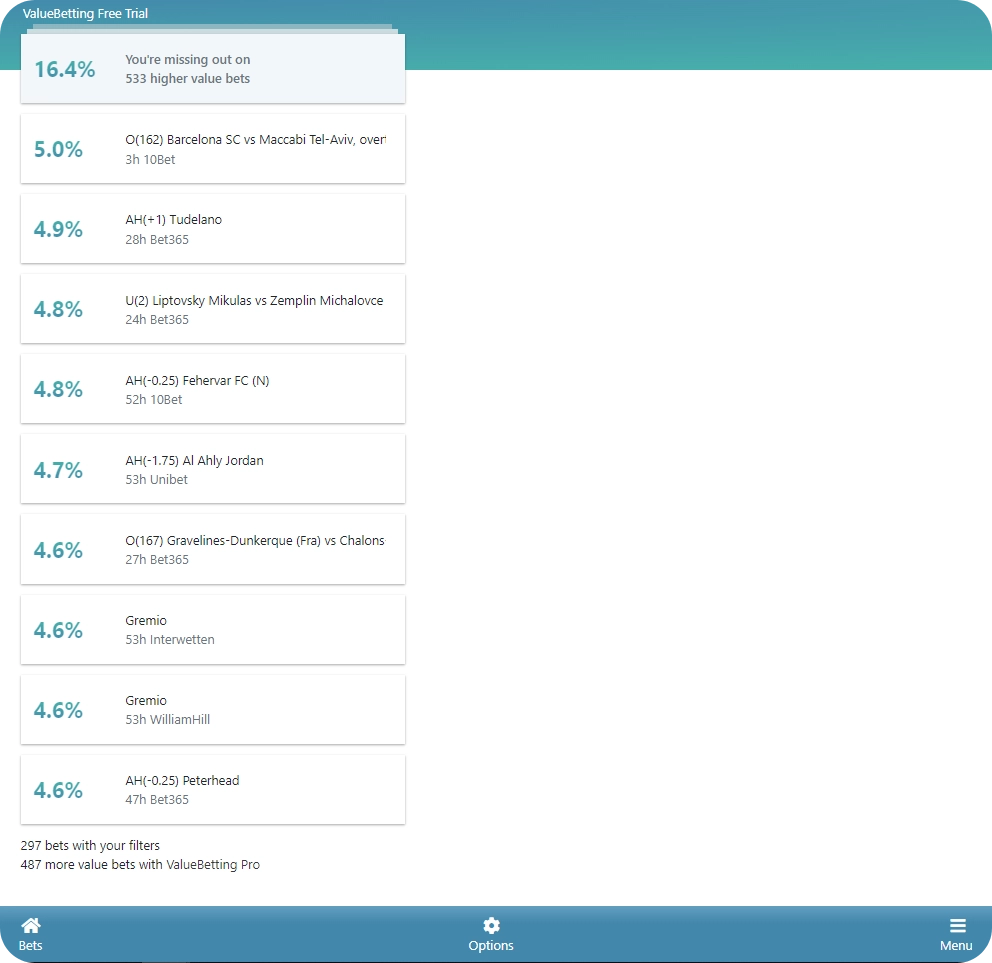 Advantages:
Fast value bet finder
Covers 60+ bookies (mostly from Europe)
Easy to use and straightforward user interface
Many markets and cross markets scanned
Written and video guides for beginner bettors
Pricing plan that helps beginners without experience
Downsides:
You won't have access to filters for each smaller betting market
Fewer bookies covered compared to BetBurger
My opinion:
The value betting software at RebelBetting is the best for beginner, mid-level bettors. The pricing plan and the user interface will offer everything you need without causing too much confusion.
Price:
Value Betting Starter
89€ – 1 month
Value Betting Pro
179€ – 1 month
You can also check my RebelBetting value betting review.
4. Breaking Bet: cheapest value betting software
Breaking Bet is offering the most affordable value betting software for pre-match and in-play events as well.
Breaking Bet is focused on scanning African bookmakers, but many betting sites from Europe and Asia are also available.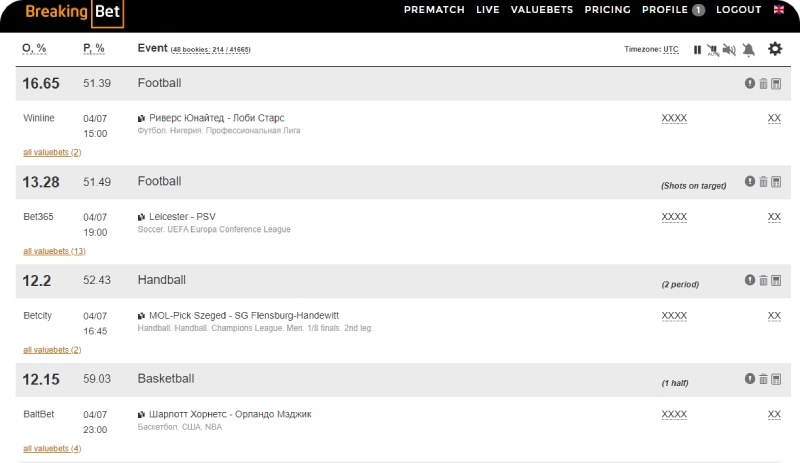 Advantages:
47 betting sites covered for Pre-match and 32 for In-play value betting
Fast customer support
Easy to understand and to use interface
12 sports scanned
Fairly fast and accurate value bet software
Downsides:
A cheaper service almost always means a less competitive service. In the case of Breaking Bet, this appears in catching fewer value bets
My opinion:
Breaking Bet is an excellent and affordable software for bettors from Africa. Their positive EV bet finder displays many opportunities but this amount will be way less compared to a premium service.
Price:
Pre-match or Live Value
€3.99/€4.99
7days
Pre-match or Live Value
€11.99/€15.99
Month
Need more info? Check my Breaking Bet Review.
5. OddsJam Value betting
OddsJam is offering a value betting software that covers bookmakers from the US and Canada. They have both pre-match and in-play services.
They started operating back in 2021 and became an industry leader right away in the US because of their quality service.

Advantages:
Covers 36+ bookies (changing number due to developments)
Fairly fast scanner both on in-play as pre-match
An excellent user interface, filters
Hundreds of written and video content for learning about value betting and many other betting strategies
7-day free trial
Downsides:
Expensive for in-play events
My opinion:
I have tested OddsJam many times and based on my experience/opinion even if you can't use OddsJam for any reason, you should follow them.
They are in constant development and by focusing on offering a better service from one day to another, I believe you must try them.
Price:
$129 $199 (with Promo code: SSB) – Surebets & Value bets – Monthly
You can read more about them in my detailed OddsJam Review.
Scanning speed at value bet finders
Scanning speed is one of the top influencing factors when you want to choose the right software.
If the value bet finder you use is capable of scanning faster compared to other services, you will be able to place more bets.
The more people focus on the same outcome, the faster the odds will drop on that betting opportunity.
A fast value bet finder can give you an edge over other players.
From the software mentioned in this article BetBurger has the fastest refresh rate followed by RebelBetting.
Odds accuracy at value betting software
Each sports betting software has some mistakes and bugs. On the other hand, betting sites are constantly changing their codes and interfaces.
These developments can cause major mistakes in value bets. I've been value betting for many years and the one thing I know is that each value bet finder is offering wrong betting opportunities.
This software can't function perfectly without having some temporal issues with speed or odds accuracy.
The biggest difference between value bet services will appear in the time and willingness it takes for them to solve important issues.
My ranking of value betting software
I have used a lot of other value betting software. Here you can find my top recommendations in many different categories.
I won't include OddsJam in these rankings, because there is no real competitor for betting sites from the USA.
Top Value betting software properties ranked
#1. Fastest value bet finder:
BetBurger
RebelBetting
BreakingBet
#2. Odds Accuracy:
RebelBetting
BetBurger
BreakingBet
#3. Nr. of bookmakers
BetBurger
RebelBetting
BreakingBet
#4. Beginner friendly
RebelBetting
BreakingBet
BetBurger
Summary: value betting software
Each positive expected value betting software has its advantages and downsides. A value bet finder like BetBurger is a perfect pick for every bettor with some level of experience. But their subscription fee might seem high compared to other services mentioned in this article.