OddsBoom Review (2023) – How to find the highest odds?
!!!Attention!!!
OddsBoom was bought out by OddsJam. The information below is no longer valid. If you need software for arbitrage, value, or matched betting visit my OddsJam review.
ODDSBOOM SUMMARY
OddsBoom is the most affordable yet very effective bookmaker scanner service that focuses on betting sites from the USA and Canada.
Bettors who opt-in for their Plus membership can use their tools to support strategies like arbitrage betting, matched betting, positive EV betting (value betting), or simply finding the highest odds at each bookmaker.

I have thoroughly tested each tool at OddsBoom, and I genuinely think their services offer an insane amount of value for a very low price.
Without exaggeration, I think someone with little experience in arbitrage or value betting can easily make 100x more of the subscription fee.
Which are the primary tools of OddsBoom?
#1. Low holds
The Low holds tool is helping bettors to spot markets with a slight house edge. It's not uncommon that bookmakers offer betting markets with very high odds, even without making profits on them.
This tool supports bonus hunters who want to take advantage of bonus offers with the betting technique called matched betting.
Filters:
House edge in %
Competition/Sports
50+ Sportsbooks
Eight different Markets
#2. Arbitrage
The arbitrage betting tool at OddsBoom can display sure bets from bookmakers that are available in the US and Canada.
You can find a more detailed review below.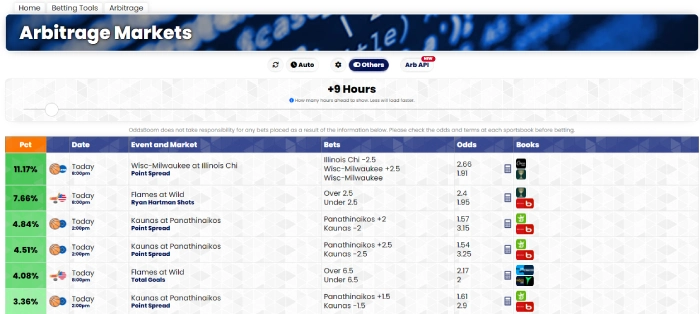 #3. Bonus cruncher
Their bonus cruncher tool is the only service you will ever need for matched betting (for completing bonus offer roll-over requirements). It is very similar to their Low holds tool but with more filters.
Filters:
Sportsbook with the bonus offer
Bonus amount
For hedging your bet:
You can exclude competitions, sportsbooks, and markets.
Maximum out-of-pocket: the maximum stake you want to use to hedge/cover your initial bet. It will modify the betting opportunity odds.
#4. Odds Comparison by sports
You can find the bookmakers with the highest odds on your selected sports and betting markets. It is an effective and essential tool for each bettor, and picking the highest odds every time is essential for long-term profitability.
Benefits of using OddsBoom
They scan over 100 bookies in total: from the USA, Canada, and some international ones
International and offshore bookmakers: Pinnacle, Bovada, and some Bovada competitors like BetOnline
Bettors who prefer positive EV betting (value betting) can compare bookies to Pinnacle (bookmaker with the most accurate odds)
You can apply automatic scanning or refresh the opportunities as often as you need
OddsBoom has a limited version of their services for free (displaying some sure bets and matched betting opportunities too)
They have the most user-friendly interface
Their monthly subscription fee is affordable even for beginner bettors with a smaller starting capital
By scanning each US & Canadian bookmaker, OddsBoom is allowing bettors to beat the bookies with simple strategies like arbitrage or matched betting
CONS of OddsBoom
· Bettors who need an in-play scanner should wait a little bit for further developments
What is the OddsBoom Arbitrage tool capable of?
Sure betting or another name arbitrage betting is a simple betting technique that can guarantee a profit every time you place bets.
This might sound like a scam, but keep reading, and you will understand how this works.
If you are not a complete beginner in sports betting, you have already noticed that the bookies offer slightly different odds for the same outcome.
It's a common phenomenon that some bookies are missing crucial information or statistics. This mistake is causing overpriced and wrong odds on those markets.
Services like OddsBoom are scanning the odds at many bookmakers. They are comparing odds between bookies, and every time the software spots an overpriced market, it is displayed for bettors.
A short example:
You are following a tennis match, and one bookie is offering a Moneyline of +110 for Djokovic
Somehow another bookie is missing a score change, and they offer the same price of +110 for his opponent
Cover both players on these odds with flat stakes of $500-$500
Indifferent of the outcome, you will make a profit of $50.
Even a simple bet like this can generate more than the monthly fee of OddsBoom. It's not uncommon that you can place over 20-40 similar bets on a single day.
Sports covered at OddsBoom
OddsBoom is scanning every major soccer league from all around the world. But keep in mind that their focus is covering US and Canadian bookies. So, sports like American football and basketball get more attention in their services.
Sports scanned: American football, Basketball, Soccer, Hockey, Tennis, Boxing, UFC, Auto Racing
Filters at OddsBoom tools
The more filter an odds comparison site has, the more practical it can be. Excluding certain leagues, sports, or markets from the displayed opportunities will make your work more efficient.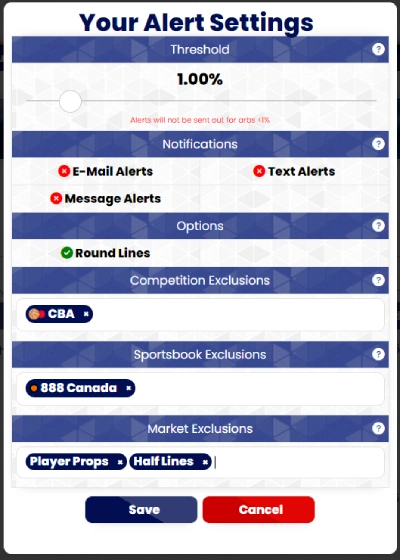 OddsBoom has the following filters:
You can choose which country/state you are from (including the US and Canada). They will display only the bookies that are available in your state. If you wish, you can add other ones too
You can apply filters based on required sports, teams, betting markets, and even players
Odds Format: they display betting opportunities in American Moneyline and Decimal odds
You can select the profit margin of bookies
Arbitrage: in the time scale, you can set up the time until the event, with threshold the minimum arb %
Bookmakers scanned
OddsBoom is comparing odds between most bookmakers available in the US and Canada. They cover the following bookies, but the number of these is constantly changing due to new implementations: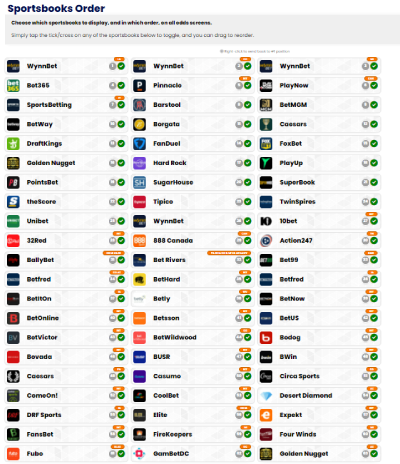 OddsBoom Bonus Cruncher – matched betting.
Many bookmakers from the US & Canada are offering insane bonuses. Getting an additional $2000 after a deposit of $2000 is opening great opportunities for betting techniques like matched betting.
Their bonus cruncher tool is the only software you need to complete every requirement for withdrawing these bonus funds.
OddsBoom provides the markets, odds, and stakes you need for the roll-over requirements.
Before placing the bets, make sure you use the right odds, markets, and stakes.
User Interface at OddsBoom
I've been actively using similar services since 2014, and I think most services have an acceptable user interface. But OddsBoom combines this with an excellent design that makes users come back and find the best betting opportunities.
OddsBoom Plus Cost
You can access all of the abovementioned services for only $15.
You will get access to their most important tools for this low fee: arbitrage, bonus cruncher for matched betting, and the bookmaker scanner service.
Each of these tools is worth way over $50/month, and many services would ask $130-$170 for this compact software.
Both matched betting, and arbitrage betting are an essential part of OddsBoom. Each month, these can offer thousands of dollars of profits for bettors with the right bookies.
OddsBoom vs. OddsJam
Few competitors cover bookmakers from the USA or Canada.
OddsJam is the only real alternative with their complex but more pricey services. OddsJam started operating back in 2021, and they are displaying many arbitrage bets for a monthly cost of $99.
By scanning fewer bookmakers (around 38), they can offer a premium service and ask for higher fees.
OddsJam focuses on two main services: Arbitrage and Positive EV betting (value betting). Most players who used each of these software (like myself) report that OddsJam displays slightly more betting opportunities.
From this fact comes their monthly fee which is 7-15x higher compared to what you can get OddsBoom for.
Do you need more info? Check my detailed OddsJam review.
Want to learn about arbitrage betting? Check my following article about how to find arbitrage betting opportunities or my in-depth article about the best paid and free arbitrage betting software.
OddsBoom Review
Interface

Price

Bookmakers scanned

Scanning speed

Betting opportunities displayed