RebelBetting Review: value betting & sure betting soft (2023)
I have used/tested each tool of Rebelbetting and decided to make a proper review of both of their services: value and sure betting software.
They are offering the most beginner-friendly and affordable Premium pre-match sure betting and positive EV (value) betting service.
RebelBetting review summary
Rebelbetting is offering free access for two weeks to their arbitrage and value betting software which display betting opportunities from 80+ different bookmakers.
They are focusing on the European bookmakers by having one of the most accurate and fairly fast odds comparison services.
Sure Betting Starter
89€/1 month – was created to support beginners right after the free trial period. Accessible for bettors with a smaller starting capital. It's a slightly limited version of their software.
Sure Betting Pro
179€/1 month – unlimited access to sure bets with higher returns, access to non-limiting betting agents – Sign up now!
Value Betting Starter
89€/1 month – great for beginners, average ROI 30%/month – Sign up now!
Value Betting Pro
179€ – 1 month – maximize your profits, unlimited sure bets, exchanges, sharp bookies, and brokers – Sign up now!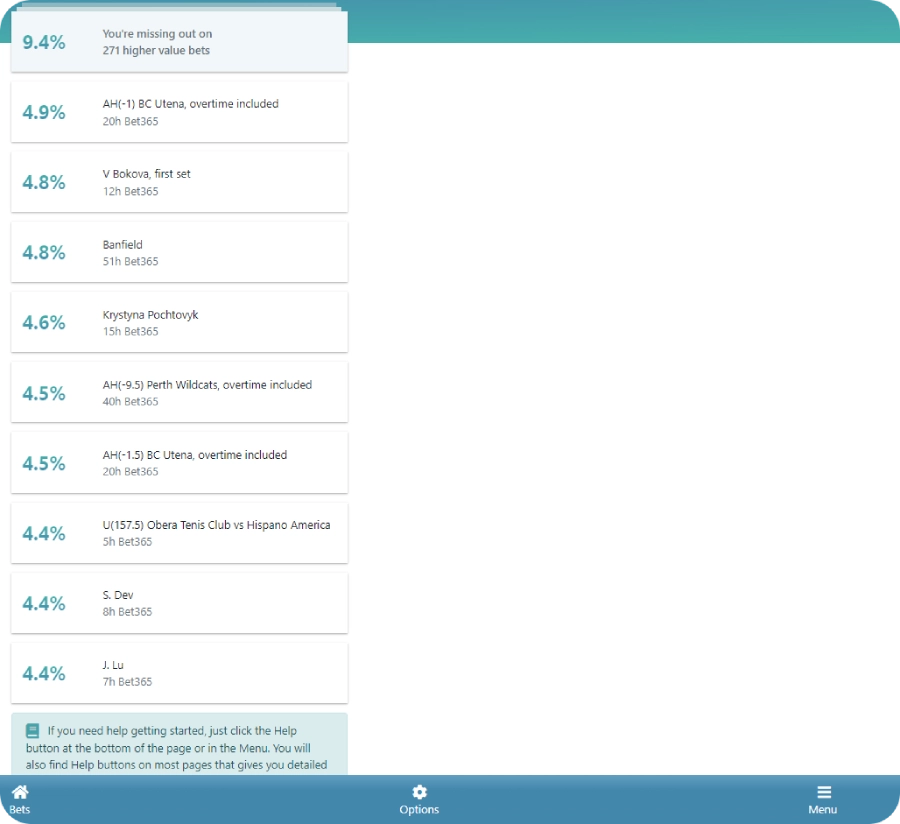 By actively practicing arbing and value betting I had to find out which software is the best for my needs. Each arbitrage and value bet finder, including RebelBetting, has its advantages and downsides. Some of them might affect or help you while others are not important for each user.
Bettors who don't want to struggle with poorly developed software but don't have the starting capital for the most expensive services should take a look at what RebelBetting is offering.
Strengths of RebelBetting
Over 80 betting sites covered
9 sports and essential betting markets scanned
Accurate odds on betting opportunities
Perfect bookie scanner for European bettors
14-day free trial
Beginner-friendly subscription plan and interface
Redirection tool (with one click the software is opening the sports event at the right bookie)
Good customer service
Guides, product descriptions, and other helpful tools for
Weaknesses of RebelBetting
Live events are not covered, which is important for many bettors
Clone bookmakers are not displayed (even though they have the same odds)
RebelBetting is promoting and supporting pre-match sure and value betting for a good reason. Each of their customers wants to earn long-term and somewhat predictable profits.
These mathematical betting strategies are already proven to work. By focusing on betting opportunities before the start of the event RebelBetting is reducing the number of users who are not satisfied with their results.
Arbitrage and value bet finders such as RebelBetting helped tens of thousands of bettors in spotting overpriced betting outcomes
RebelBetting Sure Betting Review
The sure betting software at RebelBetting is the most straightforward tool each bettor can ask for.
Their arb finder has a simple user interface and a fast scanning engine, which is a killer and essential combination.
This software is scanning the odds from over 60 betting sites and displays each significant odds discrepancy between them.
Not sure what sure betting is?
Check the following example:
Each bookmaker tries to figure out the real possibility of an outcome of a tennis event
The majority of bookies get new info about a player and they change the odds accordingly
Some of them are slower in correcting the lines, so they still offer that wrong/overpriced market
The sure betting software at RebelBetting displays the following opportunity between two bookies: the first player has odds of 2.10 at one betting site and another bookie offers its opponent the same odds of 2.10
You cover both outcomes with the same stake and make a profit no matter who wins
RebelBetting is covering not only tennis but another 9 sports and eSports as well. These betting opportunities helped thousand of bettors make even a living from them (including me).
Bookmakers scanned by RebelBetting
Netbet, NoAccountBet, Nordicbet, NorskTipping, Novibet, Paf, PartyPoker, Pinnacle, Rivalo, SBObet, Scandibet, Smarkets, Snabbare, SpeedyBet, Sportingbet, Sportmarket, Stoiximan, Suprabets, SvenskaSpel, Tipbet, Tipico, Titanbet, TLCBetUK, Unibet, Veikkaus, William Hill, WilliamHill SE, 10Bet, 188bet, 1xBet, 32Red, 3et, 5Dimes, 888sport, Asianconnect, ATG, Bet365, Bet9ja, Betanysports, BetClic, Betfair, Betfred, Bethard, BetInAsia, BETISN, Bets10, Betsafe, Betsson, Betway, BetWinner, Boylesports, Bwin, Casinostugan, Casumo, Comeon, Coolbet, Coral, Dafabet, Danske Spil, DiamondSportsBook, DraftKings, Expekt, Etoto, Fun88UK, Gamebookers, GiocoDigitale, Interwetten, Intertops, JenningsBet, Jetbull, LeoVegas, Marathonbet, Marathonbet.co.uk, Matchbook, Merrybet, Mobilbet, NairaBET, NapoleonGames.
Each odds comparison site is under continuous development. It means this list might change from one day to another.
Sure betting plan price
The pricing plan and the cost of RebelBetting are outstanding compared to other services in this industry.
Don't get me wrong, I'm not saying it's the most affordable service. But the cost of each RebelBetting plan is built to help even beginners or those with a smaller starting capital.
Cost of RebelBetting – Sure Betting
You can start with a 14-day free trial (slightly limited but enough for building up enough money for a monthly service)
Sure betting Starter Plan: €89/month (best for smaller bankroll and beginner bettors)
Sure betting Pro Plan: €179/month (full access: unlimited arbs, no limits on profit, access to non-limiting betting agents)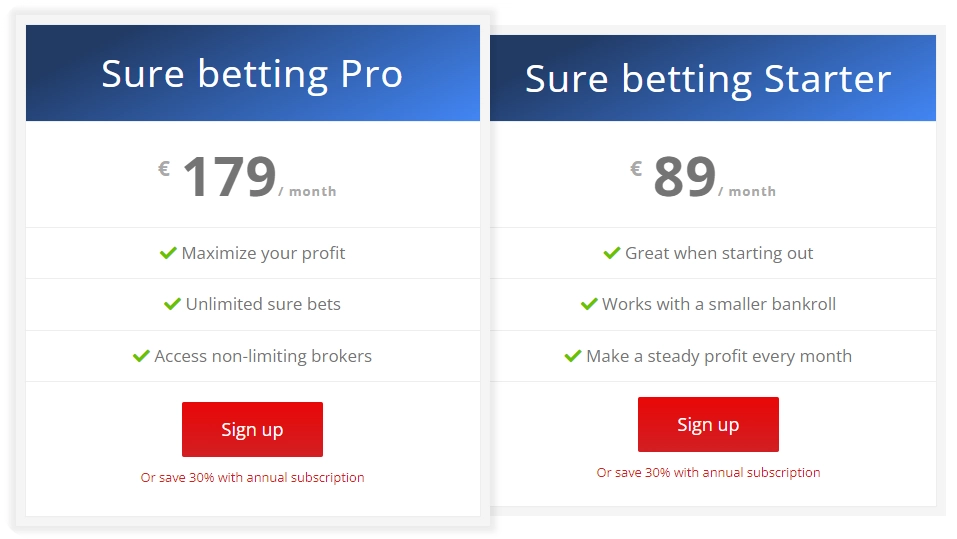 RebelBetting Value Betting Review
The RebelBetting value betting software is the result of a somewhat new trend in sports betting. Matched and arbitrage betting are the flagships of mathematical betting strategies.
Value betting had an important role for many bettors, but the majority of them focused on the above-mentioned techniques.
RebelBetting launched its value betting service only a few years ago, but the general experience about it is more than positive.
The value betting software at RebelBetting (and at competitors as well) depends on how accurately they can define the probability of winning the bet.
This strategy is based on figuring out the statistical chance of an outcome and finding bookies with overpriced markets.
The majority of value bet software and RebelBetting too, are comparing soft/slow bookmakers to sharp/accurate betting sites.
Using the RebelBetting value betting software is the easiest method of making money in sports.
You place bets on the wrong odds which will lead to beating the bookmakers in the long run
If you place enough bets, long-term profits are guaranteed (based on simple mathematical and statistical facts)
You can double your initial starting capital in at least 3 months (if you place enough bets with the right staking plan)
RebelBetting Value Betting Cost
Their value betting plans are priced similarly to sure betting. Each of their plans will give you access to enough opportunities to make enough profits and also give you the push to the next level.
Cost of RebelBetting – Value betting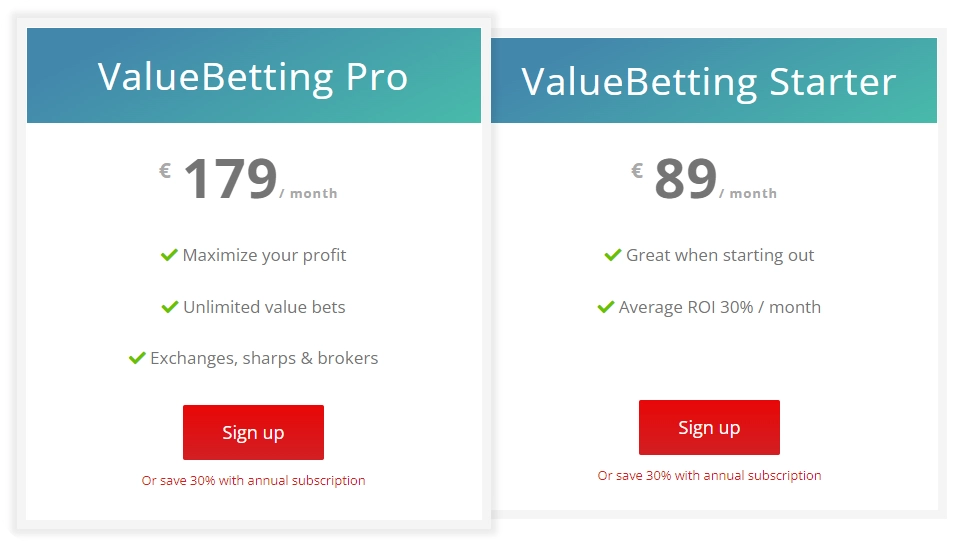 You can start with a 14-day free trial (value bets with a profit up to 7%)
Value betting Starter Plan: €89/month (best for smaller bankroll and beginner bettors)
Value betting Pro Plan: €179/month (full access: no limits on profit on value bets, access to non-limiting betting agents)
The free trial of RebelBetting comes in handy for bettors who want to try their value betting service. This strategy is based on long-term profits because bettors are not covering both outcomes.
The possibility of trying out software and a strategy for free is offering a great value by itself.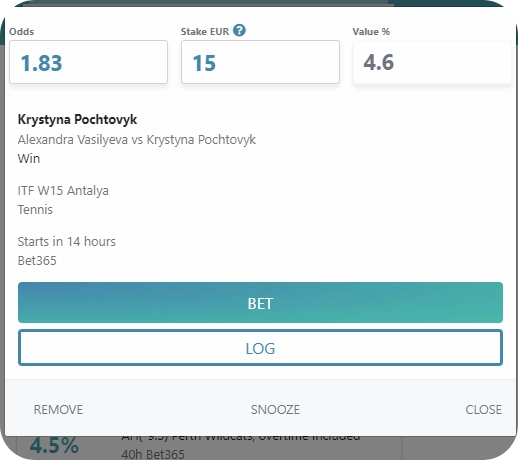 Steps by step: RebelBetting Value Betting software
After opening your free account you need to set up your filters
Click on options (at the bottom) > Click on Sports and markets
Check the required sports/markets (I would advise using soccer or tennis in the first round)
Under the Filters tab (at the top) > Bookmakers, insert the bookie you are using
Their default filters on profits, value percentages are perfect for beginners
Under the bookmaker's tab, you can select your currency and the domain of the bookie (some have a country-specific address)
These will help you in using the service faster, but they are not essential
Return to Bets (first option in the bottom menu)
Click on a betting opportunity and click on the bet button
It will redirect you to the bookie and the sports event
You can use the recommended stake by RebelBetting (based on your settings) for the maximum efficiency
Matched betting with RebelBetting
A matched betting software is not a direct service of RebelBetting. However, almost every bookmaker is offering bonuses that can be exploited even if you don't intend to use that site for other strategies.
By scanning 80+ bookies, RebelBetting is offering the opportunity for completing bonus roll-over requirements easily.
RebelBetting guides for learning
I have surveyed my readers and got a surprise result from it. Even though there is a lot of info on the internet, a new betting guide is always welcomed.
You can find enough information about sure betting and value betting on this website. But if you need information that is "tailored" to RebelBetting, you should take a look at their guides.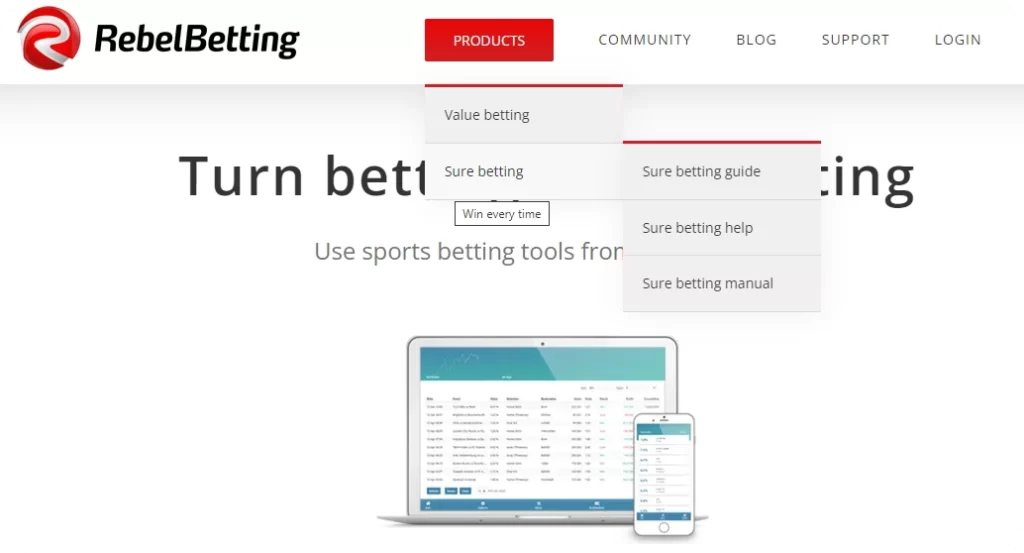 How much can you make sure betting with RebelBetting?
Many bettors are in doubt if they should try a premium service such as RebelBetting or a cheaper more affordable software is enough.
Based on my experience, if a sure betting software is capable of offering a better service it will also have a higher fee sooner or later.
A premium arb finder is capable of displaying more betting opportunities which will lead to more long-term profits.
The simplest way of figuring out how much can you make with RebelBetting is by checking their calculator.
It's a simple prediction tool that will calculate your possible profits based on your initial deposits, the number of bets you can place per day, and the number of days you can bet in a month.
Obviously, it won't offer a bulletproof prediction, but it might give you an idea of how much money you can make in a month.
Does RebelBetting work?
RebelBetting is supporting the two simplest betting strategies based on mathematics. By scanning many bookmakers they are capable of displaying odds discrepancies between them.
RebelBetting is working perfectly if you are looking for a pre-match arbitrage or value betting software.
The betting opportunities they display might disappear many times before you could place your bets. But generally speaking, RebelBetting is an excellent fast software for spotting these wrong odds.
User interface review at RebelBetting
Despite their many years of presence in this industry, it seems that RebelBetting never copied the design and user interface of their competitors.
It is important to highlight this fact because if you ever used an arb or value bet finder, you might get a little bit confused with their interface.
The majority of their competitors have built an almost identic design that is easy to use. For the first time, I tried RebelBetting I needed 1-2 minutes to figure out how they work, but their system is also capable of offering everything you need.
RebelBetting alternatives?
If you are looking for the best pre-match premium arb or value bet finder then RebelBetting is the top pick. But many bettors do need other tools that this service is not offering.
In this case, you might want to have a look at services such as BetBurger, ArbMate, or Breaking Bet.
I have made in-depth guides about the top arbitrage bet finders and value betting software. Both of these articles include the majority of services I have used during the past few years.
Some of them can offer in-play services while others are covering more bookmakers for a significantly higher monthly fee.
Conclusion: RebelBetting value betting & sure betting review
RebelBetting with its 14-days free trial and beginner-friendly starter plans is the perfect pre-match arb finder and value betting software both for beginner and experienced bettors. They will help you understand how these strategies and their software are capable of generating profits from sports betting.
Relevant articles: Is value betting profitable?
FAQ
Is the RebelBetting value betting software trustworthy?
RebelBetting is offering one of the best value and sure betting services for pre-match. Their odds comparison tool has a fast refresh rate and displays betting opportunities fairly accurately.
RebelBetting Erfahrungen
RebelBetting ist eine der besten Software für Arbitrage und Value. Ihr Quotenvergleichstool hat eine schnelle Aktualisierungsrate und zeigt Wettmöglichkeiten ziemlich genau an.
RebelBetting: value betting & sure betting review
Nr. of bookies

Refresh speed

Interface

Beginner friendly

Price