Top 4 Arbitrage betting software in Ghana [2023]
In this article, you will find the top arbitrage bet finders for Ghanaian bookmakers. I've been practicing sure betting and similar strategies for many years.
The services I present in this article was tested or used by me for a long period.
Are you in a hurry? Here is my recommendation:
For pre-match arbitrage betting, you have two great alternatives. I think both Breaking Bet and Surebet.com can satisfy your needs.
Both of them are scanning many bookies that are available for Ghanaian bettors.
If you would like to try an arb finder for in-play sure betting Breaking Bet and ArbMate are excellent and also affordable tools (Breaking Bet is cheaper).
Each of them can be a perfect arbitrage betting site in Ghana. But some of them might be too expensive for beginner bettors with a smaller starting capital.
I started to like this, and I know that even $10/month for service can seem too much. But in most cases, they are worth more.
Many bettors from Ghana are looking for techniques and betting systems to guarantee a profit. It's not surprising why many people start strategies like sure betting or matched betting.
Arbitrage betting in Ghana: arbitrage betting sites in Ghana
#1. Breaking Bet
Breaking Bet is a top choice if you are looking for the most affordable yet decent arbitrage bet finder for Ghanaian bookmakers.
By checking their list of bookmakers, you can easily figure out that most of them are focused on African countries.
I have used their services many times, mainly for matched betting, including arbitrage betting.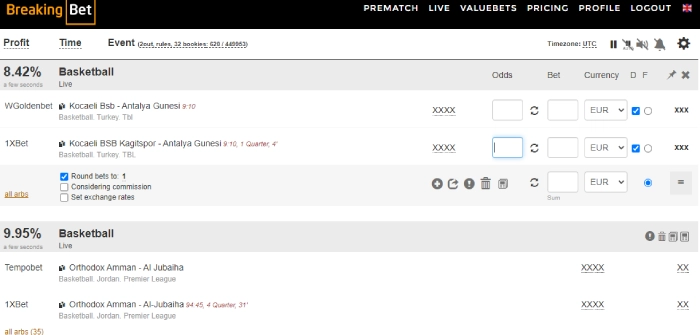 Betting sites covered for arbitrage betting in Ghana
Betway
Bet365
22bet
1xbet
Sportingbet (bwin clone)
Betboro (Vbet clone)
Mybet (Unibet clone)
888sports (Unibet clone)
Betiton (10bet clone)
Bet9ja
Melbet
PinnacleSports
Please keep in mind that this list might not be complete.
Breaking Bet covers most betting sites that might be good for arbing in Ghana. They are scanning other African bookies too, but these are the most accessible for Ghanaian bettors.
Price
Pre-match/month: €18.99 (€5.99/7days)
Live/month: €24.99 (€7.99/7days)
Pre-match+Live: €34.99 (€11.99/7days)
Sports covered
Breaking Bet scans the most popular/important sports. In total, they are scanning the following 12 sports.
Available filters
Profit range
Lifetime range (how long is the arb available for)
Event time
Markets
Useful tools
Thirty days of freezing: I think it's one of the most important options an arbitrage bettor could ask for. If you can't work for some days, you can stop the subscription and restart it when you return. This way, those days won't be lost.
I think Breaking Bet is a great arbitrage bet finder for Ghanaian bettors, both who are total beginners or advanced sure-betting.
This article focuses on sure betting, but I would like to mention their Value betting services. For a very low monthly fee, you can get full access.
It's riskier than arbing, but you will make 50%-60% more profits (personal experience based on 7 years of betting).
Need more info? Check my detailed Breaking Bet Review.
#2. Surebet.com
Surebet.com is a great Pre-match arbitrage bet finder for Ghanaian sure betting. They are covering over 180 bookmakers, and their services focus on European, African, and Asian bookies.
So arbitrage bettors from Ghana can also benefit from their fairly fast and accurate sure bet finder.
If you are looking for the best arbitrage betting sites in Ghana, then Surebet.com should be the nr. 1 or no. 2 option depending on your needs.

Advantages:
Covering over 14 bookmakers available in Ghana
Display fairly accurate odds
Affordable subscription prices
Free sure bets up to a profit of 1%
Betting sites for arbitrage betting in Ghana
Betway
Bet365
22bet
1xbet
Sportingbet
Betboro (Vbet clone)
Mybet (Unibet clone)
888sports
Betiton (10Bet clone)
LSBet
Bet9Ja
Melbet
PinnacleSports
Price
Weekly subscription: 8.90€
Monthly subscription: 25.9€
These subscription fees will get you access to sure bets without limitation and access to value betting.
Surebet.com also offers a middle bets finder for Ghanaian bookmakers, and you need to pay only an additional 2€.
Sports scanned
60 sports covered, including the famous sports and smaller ones like 4×4 basketball, eSports, etc.
Redirection tool
They are offering a free browser extension, and it allows you to open the bookie/match/bet-slip with one click. You can find more info and a complete guide about this on their site. This tool is not compatible with each bookmaker.
Not sure yet? Check my in-depth Surebet.com Review and presentation.
#3. ArbMate
ArbMate was purchased by the fastest (also most expensive) arbitrage betting site Oddstorm.
If you are looking for fast pre-match/in-play arbitrage betting for Ghanaian bookmakers, ArbMate is an excellent option.
Despite offering a great service, their pricing plans are fairly accessible. They offer a very different payment method, and you need to pay for bookies you intend to use—more on this below.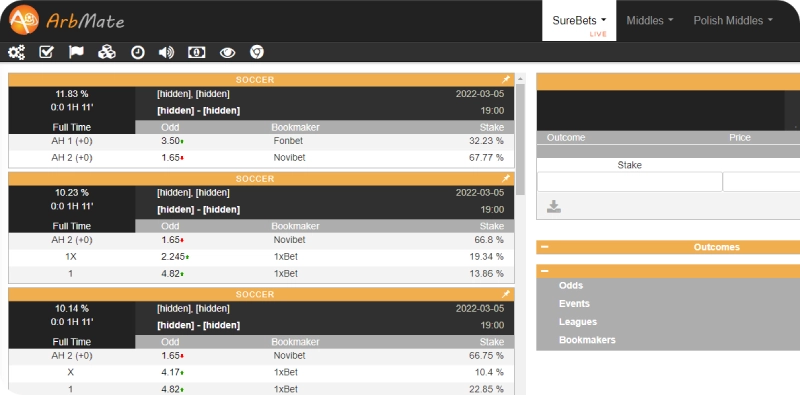 Bookmakers scanned by ArbMate
Betway
Bet365
22bet
1xbet
Sportingbet
Betboro
Mybet
888sports
Betiton
Bet9Ja
Melbet
Pinnacle
Pricing
19€/month that contains: Bet365, Pinnacle, and Bwin
You need to pay an additional 3 – 8 euros/bookie:
You can switch between bookies for free if they have the same price.
Sports covered
ArbMate displays arbitrage bets from Football and eSports.
Their in-play and pre-match scanner is the second fastest for Football. If you consider a step ahead from beginner arbing to the pro level, ArbMate is a great choice.
#4. BetBurger
BetBurger is the biggest player on this list for sure. They have been offering high-quality premium arbitrage betting services for many years.
The number of bookies they scan and the pricing suggest the service quality they can offer.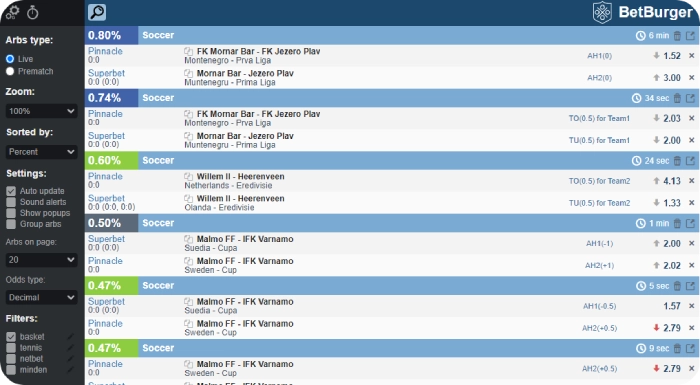 Ghanaian betting sites in the arb finder of BetBurger
Betway
Bet365
22bet
1xbet
Sportingbet
Betboro
Mybet
LSBet
888sports
Betiton (10bet clone)
B-Bets
Melbet (1xbet clone)
Pinnacle Sports
Price
Pre-match: 130 euros
Live: 230 euros
Pre-match/Live: 295 euros
These higher prices suggest the experience and starting capital you need for using their services. BetBurger focuses on offering a fast arb scanner, with many bookies scanned pre-match and in-play.
The monthly subscription plans might seem a little bit expensive. But their services are not aimed at beginner bettors. If you are looking for a premium sports betting software that supports arbitrage and value betting, BetBurger is a gold mine.
Or check my BetBurger review and find out how I used them to maximize my profits from sure betting.
My recommendation for arbitrage betting in Ghana
I would pick software based on my experience, access to bookies, and starting capital. For someone with smaller capital, Breaking Bet is a good choice. If you prefer pre-match betting Surebet.com should be the top pick.
With a slightly larger capital, I would choose ArbMate. For professional betting, BetBurger is the obvious choice.
Conclusion: best arbitrage betting software in Ghana
Five arbitrage bet finders are capable of scanning enough bookmakers from Ghana. Each has different price plans and covers a different number of Ghanaian bookies for sure betting.
Each of these arbitrage betting sites is great for Ghanaian bookmakers, but I prefer ArbMate and Surebet.com for my needs.
If you are reading this article I assume, you already know the essential information about sure betting. But if you think you can learn more, check my article on how to find arbitrage betting opportunities.
You can also check my in-depth article about the best arbitrage betting software.