7 Tips on How to Beat The Bookies Mathematically
The majority of bettors (around 96% of them) will lose in the long run and won't have the chance to beat the bookmakers.
The simple fact is that not applying any kind of math to staking plans or choosing the right outcomes will guarantee long-term losses.
Can you beat the bookies using math?
Beating the bookies and winning football bets is possible using mathematically proven betting techniques.
It is a simple question yet the most important for bettors who are betting not only for recreational purposes.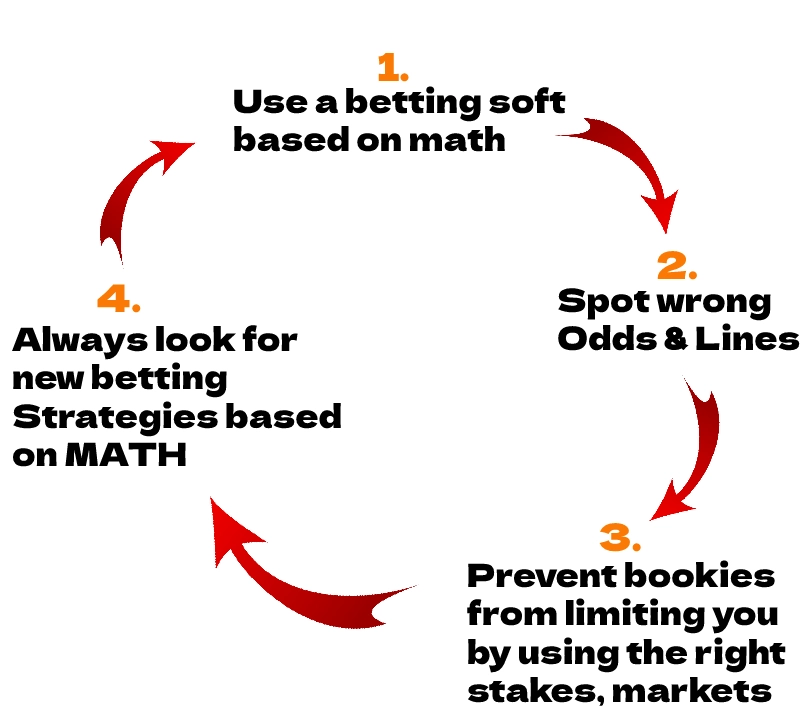 Many people are sports betting only for getting a little bit of adrenaline while watching their favorite teams or players. In this case, beating the bookmakers is not the main goal if the bets are placed with small stakes.
Betting based on techniques that can guarantee winning at least, in the long run, requires bettors to place bets on matches, players, and outcomes that normally would be avoided.
These strategies will take away the happiness and excitement of cheering for your favorites but can offer the opportunity of winning against bookmakers.
Top tips on how to beat the bookies mathematically
Summary:
1. Profit from Artificial Intelligence and math with Zcode Systems
2. Get mathematical betting predictions from the best tipster sites
3. Use math and statistics combined
4. Beat the welcome bonus offers
5. Take advantage of overpriced markets
6. Math with positive EV betting or value betting
7. Use mathematical betting strategies
Some of the strategies below can only boost your chances of winning against bookmakers, while others can offer a guaranteed profit almost every time.
Winning soccer bets mathematically and making guaranteed profits might sound like an excellent and almost fake idea.
I can assure you that making risk-free guaranteed profits from sports betting is possible but it also has many downsides.
1. Get mathematical betting predictions and tips
In 99% of cases when you find betting advice that promotes tipsters from various platforms you should avoid them right away.
But some services can offer predictions based on true odds, the right betting lines, and many years of experience.
Beating the bookmakers with the help of tipsters is possible only in a few cases. You have to be 100% certain that the betting history you see is accurate, not manipulated, and up to date.
Many football bettors who want to win against bookies won't succeed from the simple fact that their tipsters are manipulating odds, stakes, and even bets in their betting history.
I've thoroughly tested and then used a tipster platform called Tipstrr. I never believed in being able to make long-term profits and beating the bookmakers.
Then I tried Tipstrr by opening a tipster account and making sure that I can't delete losing bets, or change odds and stakes when the event is finished.
I was surprised when I did not find any way to manipulate my results. Tipsters on their platform have to offer quality service and successful predictions if they want subscribers.
Many tipsters will face ugly failures and a wall of shame when looking at their betting history.
While others can offer quality predictions and a long-term success that lasted several years. It's not surprising when a tipster who can beat the betting sites with math is getting several hundred and even thousands of subscribers each month.
Tipsters who have a long and profitable betting history are following techniques based on math.
2. Beat the bookies with football statistics
The most common steps of a beginner bettor are to start following tipsters from social media and to look after betting statistics and predictions based on stats and percentages.
During my long years of sports betting, I have used many services, sometimes even tennis tipsters from Facebook. I don't know if their predictions were based on stats and historical data but some of them were fairly successful.
I have followed several football statistics services in the hope of beating the betting sites in the long run. The majority of them were useless while others offered a fair amount of advantage against betting sites.
The two tools I used for a longer period were Zcode System and PlayThePercentage. Both of them get historical data from football matches and use it for different types of tools.
Zcode System is one of the most excellent statistical tools to win with soccer betting strategies. By getting data from tens of thousands of football matches each year, they were capable of building a database that can be used for various purposes.
Their users can get football predictions based on math, simple statistics, and pure data. Besides these simple yet fairly accurate football data, they offer a backtesting tool.
These services are capable of testing the profitability of your strategy based on historical data. You need to introduce every factor/filter important to your strategy (such as required league, market, odds range, in-play stats, etc.)
The more data you include the more accurate result you can get about your strategy.
Zcode System also has in-play notifications based on your filters. These can give you a boost to win against the bookies.
3. Beat the betting welcome offers
Almost each betting site (even bookmakers without verification) is offering welcome bonuses and offers for existing users. These bonuses are not given from simple generosity but to keep existing customers active and make their deposits once again.
Betting with math and taking advantage of these offers is probably the oldest betting strategy to make guaranteed profits from sports betting.
Bonus hunters are not welcomed because they can easily win against bookies. Completing the roll-over requirements on these offers without risking your deposit or the bonus itself is fairly easy.
Even the smallest bonus offer of 5 or 10 euros can generate a guaranteed profit if you know how to cover each outcome on the right odds.
The betting strategy called matched betting is based on finding as many bonuses offer on sports as possible and beating the betting sites with math.
The goal of a matched bettor is to place a bet at the bookie with the bonus offer (on the required odds) and find high enough odds at another betting site.
This betting technique requires finding markets where a bookie offers a slightly overpriced odd compared to other betting sites.
This way beating the bookie with the bonus offer becomes possible by covering both outcomes (with the right odds) without losing money on your bets.
4. Sure betting: math to beat the bookies every time
Sure betting is one of the best, fairly effective, and reliable ways to win on soccer bets every time. This strategy is very similar to matched betting.
The goal of the bettor is to find betting outcomes with overpriced markets and to take advantage of them by simultaneously covering each outcome.
The first bet needs to be placed on the wrong odds and the second bet has to cover the other outcome at another betting site with the same high odds. These arbitrage bets can beat the bookies by the simple fact that they generate profits on each bet.
These winnings won't make you rich from one day to another, but profits of 5-20 euros on each bet can easily add up if you can place 10-30 bets each day.
The biggest drawback of this strategy is that requires a fair amount of starting capital and most bookies can detect it fairly easily.
Bettors who become greedy and place bets on small leagues or sure bets with big returns (over 6-7% profit) will experience a fairly fast limitation of their stakes.
I have practiced this strategy for several years and even with the most strict precautions, I got most of my betting accounts limited.
If your goal is to make guaranteed profits fairly fast, no matter the consequences, arbitrage betting is a good way to beat the bookmakers and win a lot by combining football betting and math.
5. Beat the bookies with value betting
Value betting or positive EV betting is the most profitable betting strategy and it's based purely on math.
Before jumping into the details I have to mention that I have practised value betting for many years and based on my experience it's not for cowards or greedy bettors.
Successful value bettors can define the true odds and lines for outcomes with the help of paid services, sharp bookies, or long years of experience.
Winning football bets mathematically with the help of value betting is the most profitable betting strategy in the long run.
This technique is truly based on beating the betting lines and winning more often than the odds would justify.
It's simple mathematics: you buy betting opportunities at better prices than the probability of the outcome.
The statistical probability will always succeed in the long run. If there is a tennis match between two tennis players with a 50% – 50% chance to win, after several matches each player will win 50% of the meetings.
Value betting is the mathematical way to beat the bookies by finding an odd of over 2 (staying with this example).
You can find these betting opportunities with the help of value bet finders such as RebelBetting. Check my list of the best value betting software for more info on this topic.
6. Use proven staking strategies
Beating the bookmakers with football bets based on math is possible even without following a strict staking plan. But getting the most out of your strategy can be achieved only with the proper staking plan.
Even the simplest flat staking technique is better than nothing. I advise using a simple percentage-based stake every time.
My most successful results were when I used 4% – 6% of my actual balance for each bet.
With the help of this method, you can reduce the effect of a long losing streak and also maximize the profits in the long run.
Can you ever beat the bookies?
Beating the betting site is possible and proven with several math-based strategies. But these can offer you profits only to a certain limit. No bookmaker will allow you to use them as a cash cow for unlimited time and profits.
Sooner or later each of them will limit your maximum stakes except for betting exchanges.
Conclusion: How to beat the bookies with math and win football bets?
Get mathematical betting predictions and tips
Beat the bookies with football statistics
Beat the betting welcome offers
Sure betting: math to beat the bookies every time
Beat the bookies with value betting
Use mathematically proven staking strategies
An interesting short article you might be interested in is about bookmakers without verification. Check it out and start playing right away.
FAQ
Can you actually beat the bookies?
Some betting strategies based on mathematics are capable to beat the bookmakers even in the short run. While others can generate more profits in the long run.
What to do to beat the bookies with math?
You should practice matched betting, arbitrage betting, or value betting to beat the bookies with math and make almost guaranteed profits. Each of these strategies was already proven to work by tens of thousands of bettors.
How to beat the bookies on football, tennis, and horse racing?
Each betting strategy based on math is capable of beating the betting sites on football, tennis, horse racing, or any other popular sports. The principle is to find overpriced betting odds or lines and take advantage of them.